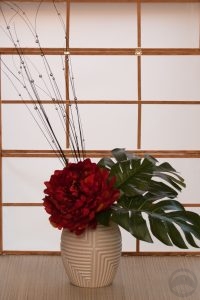 Last year, I made an origami ikebana arrangement as a gift for a friend. This year, I wanted to make something for my aunt that would coordinate with her decor and last a long time.
Everything here came from Michaels. I started with the gorgeous, bold red peony that I knew would be the focal point of the whole arrangement. Typically I'm not a huge fan of faux greenery, but these monstera leaves had way more substance and punch than most fake foliage, and since real monstera leaves are quite shiny and waxy anyway, these look much more realistic than most. All I needed after that was a something with height and airiness to balance the earthy, heavy quality of the flower and leaves. My father actually found these very thin branches with pretty silver beads on them that work as the perfect finishing touch.
Of course, I needed some sort of vessel, and I spent a fair bit of time rummaging around in a few different aisles until I found this one and fell in love with it. It's an almost-perfect match for my aunt's wall colours so I knew it would coordinate well and while it's simple enough not to compete with the flower, the bit of texture makes it very earthy and interesting.
Typically, ikebana needs to be done with live, fresh, seasonal flowers. However, there are always acceptable reasons to deviate from the norm. Overall, I think for a silk flower arrangement this was very successful. And my aunt seemed to like it, which is the important part!