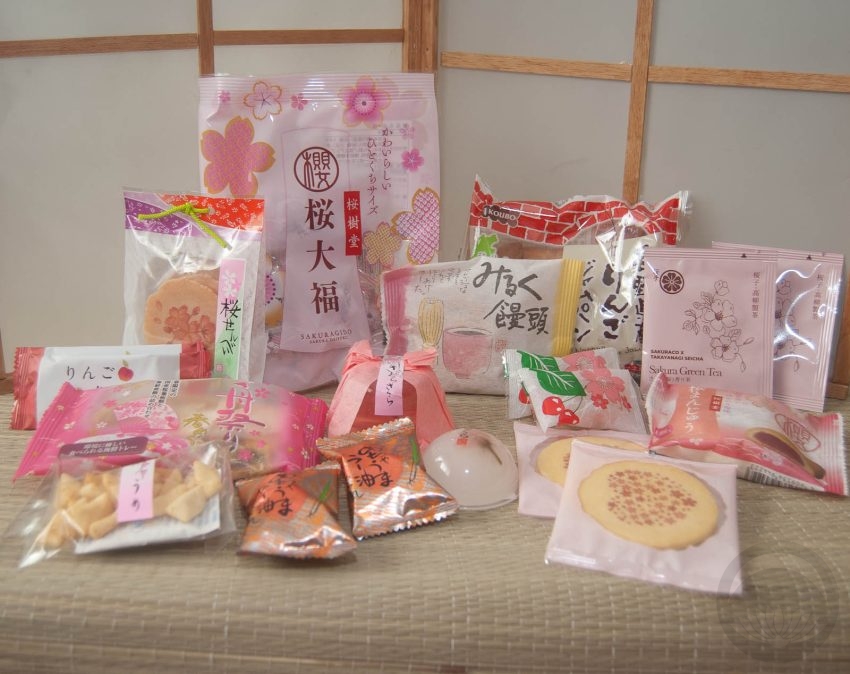 Sakura season is here! There's no better time than to share with you the Sakuraco snack subscription box. Sakuraco were kind enough to send me this box for free but all opinions are my own. I'd been wanting to try this box for a while now, because the idea of a more traditional snack box really appealed to me. There are several others out there but they tend to focus more on modern junk food and otaku-type theming. Sakuraco stands out by offering a variety of very classic tastes and textures, and working directly with small Japanese businesses that have been producing these products for decades, if not longer. It felt like the perfect fit for a blog focusing on more traditional arts and cultures.
I received the April box, themed all around Sakura Festival. Nearly everything in the box has a sakura flavour, with a few complementary items with apple flavour and a few savoury/spicy items to help balance out the flavour profile of the box. This was a great idea to break things up a bit, as sakura can be a bit cloying on its own.
My first thought is that this box is beautifully presented. The mailing box itself is wrapped in protective packing material but once you remove that the box is beautiful. I intend to keep mine for storage, and this would also make them fantastic for gifting purposes. Once open, the box is inviting and piques your interest with a beautiful art card and a glossy magazine explaining all the products inside. This magazine is beautifully laid-out and photographed, and especially helpful as a lot of the items only have Japanese writing on them.
Once inside, I was amazed at the sheer variety and quantity of products they were able to include in a relatively small box.
I decided to create a little "sample plate" for myself, as I knew I wouldn't be able to try everything at once. My father also helped me try out a few of the products, which I'm sure was a very arduous task for him 😉 I tried to aim for a variety of products, from sweet jellies to classic mochi to spicy and crunchy crackers. I'm reviewing the box concept as a whole but I thought I'd share my feelings on a few of these items anyway, to give you a better idea of what you might receive should you choose to sign up.
Sakura Jelly – Absolutely beautiful, very refreshing, but very mild in taste. Very soft jelly, and a slightly ephemeral experience due to the light texture and flavour.
Sakura Kuzumochi – Smaller, slightly denser, and a lot more flavourful than the larger pink sakura jelly, and my favourite of the two.
Sakura Daifuku – A delightful little sakura mochi filled with anko paste. Comforting and reliable if you like mochi. I won't lie, these look a bit like tiny little butt-holes with the way they were folded together, and that just made me love them even more.
Sakura Kanten – A little gummy square, a bit like a french pate de fruits if you're familiar with those. This one was wrapped in oblaat, which is an edible starch paper. It can be an odd experience if you've never had food wrapped in one, because it almost feels like you're eating plastic, but it melted away quite quickly and the candy itself was delicious.
Sakura Manju – A soft, chewy dough-based manju bun filled with pickled sakura paste. I absolutely loved this one and want to eat twelve more right away!
Ume Arare – We're reaching the more savoury side of the box now – these crackers are flavoured with salted ume, so there's still a hint of sweetness, but tempered with sour and salty. These were sharp and unique and very enjoyable.
Chili Arare – A delightfully crunchy little ball with a kick of chili at the end. There were only two of these and frankly I regret giving the second one to my father because I want to eat more of them.
I thoroughly enjoyed everything I ate, and have high hopes for the rest of the items that I haven't tried yet. It's clear that every item in this box was selected carefully and thoughtfully. They all fit the theme and balance very well together.
The last item in the box was this absolutely beautiful little ceramic dish. There were three different designs available and I really lucked out and got the one I'd been hoping for! Of course I had to use it right away for my snack sampler!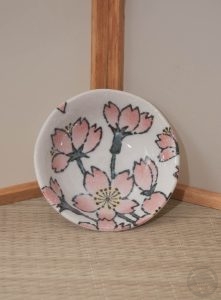 The only negatives when it come to the Sakuraco subscription box, if I can consider them that, are that since you have no real control over which items you receive, if you have a lot of food allergies or intolerances this might not be ideal. I have a mild dairy allergy but it only causes minor histamine reactions in me, nothing serious or dangerous, so I'm fine if I monitor my consumption, but it definitely did make me stop and think about this. The beautiful little magazine clearly enumerates all potential allergens in every item, but if you have one to a common ingredient (wheat, eggs, milk, soy, etc) then it will definitely impede your enjoyment of this box. However, this is true for any food-based subscription or surprise box, and only you can decide what's best for you.
The other issue is that one of the items in this box was very delicate and did not survive overseas transport. It's a shame, because I was very much looking forward to this adorable boat-shaped senbei wafer filled with flavoured crackers. I still ate them all and enjoyed it very much, but the visual appeal of the whole experience was lost, which was a bit of a disappointment.
Pros:
Amazing selection of sweet and savoury goods from all over Japan
More traditional than a lot of other Japanese snack subscriptions
Beautiful packaging
Excellent value for the price
Fast shipping
Cons:
Some items may not transport well (see the poor mangled Senbei Boat)
May not be ideal for people with food sensitivities or allergies
In the end, only you can decide whether or not a box like this is worth it for you personally but I can say I wholeheartedly recommend it for any fan of more traditional Japanese flavours and textures! If you'd like to check out Sakuraco for yourself, please consider using my referral link by clicking here. Thank you!
 I received this item from the retailer or manufacturer for honest review purposes.If you have a topically appropriate craft, product, or service you would like me to review, please contact me.This post contains affiliate link(s). If you choose to purchase, I receive a small rebate or commission which goes to the continued maintenance of this site.