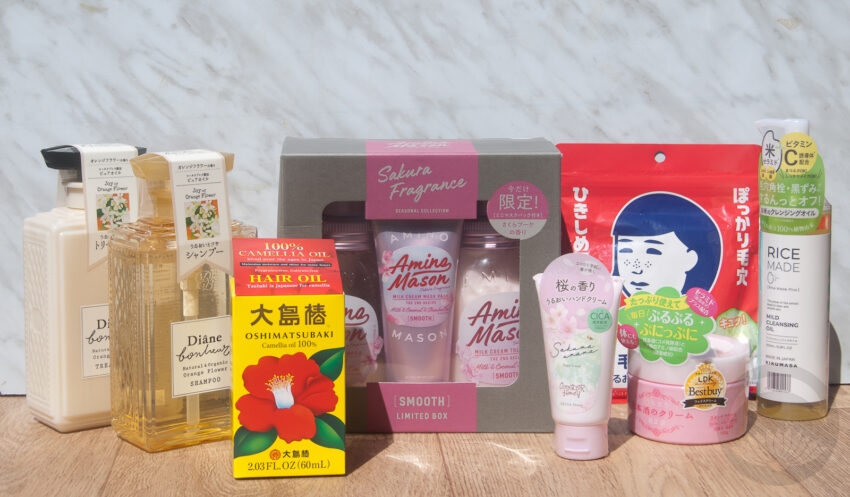 A while back, I came across Kiyoko Beauty, a Canadian company dedicated to making Japanese and Korean beauty more accessible here in North America (they ship to the US as well!). I gave them a budget and asked for product suggestions to feature, and they were kind enough to work with me to basically double what I was able to get for my budget. It was enormously appreciated, and allowed me to bring a wider range of products to you all.
Before anything else, I would like to thank the staff for being so patient with me. This review has been a very long time in coming, but I've been travelling a lot, having some issues with a sick lizard, and wanted to make sure I gave all the products a good long test to make sure my reviews were as thorough as possible.
However, this timing benefits you as my readers, because they're currently having a huge Black Friday sale, which is on until November 30th. If you're looking to try any traditional or modern Japanese (or Korean, but I focus on the Japanese here) beauty products, or looking to get some holiday shopping done, this is a fantastic opportunity for you.
I tried a variety of hair and skin care products, and thoroughly enjoyed every single one. I can recommend all of these, with a few case-specific (sensitive skin, colour-treated hair) caveats mentioned in each section.
| | |
| --- | --- |
| | Tsubaki (camellia) oil has been used in Japan as a miracle multi-use beauty product for centuries. This is pure camellia oil with no additives and it has been so versatile. I've used it on my hair, my nails and cuticles, and my dry legs. It would be great for face too, for someone with drier skin than myself. If you only consider one product from this post, this is the one to go for. |
| | I have been on the hunt for a true sakura fragrance and had high hopes for this line. It smells absolutely amazing, but it's almost got more of a fruity and sweet scent than I was looking for. That said, it's a fantastic line, I used up all three of these products (shampoo, conditioner, and hair mask) while I was in California and they made my hair look and feel great and didn't strip my hair colour more than any other shampoo I've used. These may have not hit my "sakura" button but I'm definitely debating buying more! |
| | I won't lie, the name of this brand may have been my primary motivator to select these. They were literally calling my name! This line feels luxurious and elevated, from the packaging to the subtle orange bossom fragrance. The products were great, but they definitely did something funky with my hair colour - it's gone from its usual teal to a very natural-looking brown! It's not terrible but I wouldn't really recommend this particular line for colour-treated hair. It's not marketed that way though, so I knew it was a possibility. |
| | I wanted to try some skincare as well and the folks at Kiyoko suggested Kikumasamune. I grabbed a face cream and a cleanser. The oil cleanser is absolutely amazing. It's got a delicious but subtle orange fragrance to it, removes makeup like a dream, and leaves my face feeling soft and smooth. The moisturiser contains sake lees and probiotics, and worked fantastically for me for quite a while, until my dermatitis started acting up (for unrelated reasons). I've had to go back to more specialised products but I'm looking forward to being able to finish it off when my skin settles back down though! However, it absolutely smells like sake so that is something to consider. |
| | These sheet masks are fantastic. I have no idea how they manage to both clear up breakouts and dry oily skin while hydrating the face so well! They have a faint scent of both cucumber and pineapple, which is very invigorating and refreshing, so they're a great pick-me-up to wear while getting ready for a big evening. One thing to note, these masks are not individually packed. The bag has a press-and-seal strip so they do stay moist for a long time, and I appreciate the lack of disposable waste, but I like to toss a sheet mask or two in my carryon bag when I'm spending a whole day travelling and that's not possible with these. |
| | This is it! This is the sakura scent I've been on the hunt for! It's light, floral, a little herbaceous, and a little powdery. It's also incredibly moisturising and didn't irritate my eczema or dermatitis. If I could buy industrial barrels of this cream, I absolutely would. I cannot say enough good things about it! |
Again, I want to give a huge thank you to the team at Kiyoko Beauty. On top of the great products and affordable prices, the service I received was so incredibly helpful and thorough. They helped me work within my budget, and gave me some fantastic suggestions that took my concerns and interests into account. So if you're looking for some cult favourite products from Japan, I highly suggest you check out Kiyoko Beauty.
 I purchased this item at a discounted price for honest review purposes.This post contains affiliate link(s). If you choose to purchase, I receive a small rebate or commission which goes to the continued maintenance of this site.