I want to preface this with the disclaimer that I have had a crush on Chef Morimoto Masaharu for literal decades, ever since I first saw the badly-dubbed transport of the original Japanese Iron Chef show. I mean, a handsome man in kimono who makes delicious food? How could I not?
So of course, when my boyfriend took me to Las Vegas last month I knew I wanted to finally get the chance to eat at one of the Morimoto restaurants, even though I knew realistically there was no way he would actually be there.
The restaurant is in the Marketplace area below the MGM Grand, and we stayed in the MGM Signature which is connected via a walkway to the Marketplace, which made it incredibly convenient and comfortable to get to, but if you're staying in a different property be prepared for a bit of a walk.
First impressions on the atmosphere – the hostesses were incredibly attentive and friendly, and one even helped an older gentleman find the way back to his hotel room despite him not having been a patron at the restaurant. The décor is a lovely blend of Japanese clean lines and more ornate Chinese elements. It works without feeling ill-informed or like some kind of "oh all Asian things are the same" mish-mash. The bar and lounge is opulent in reds an golds and feels more Chinese (and also more like what you'd expect inside a casino) whereas the main dining room with the teppan area is all black wood and clean lines and has a much more modern Japanese vibe to it.
I asked if I could snap a photo of both the dining room and the sushi bar and they were kind enough to oblige me. I didn't take more as I didn't want to disturb the other diners. I also really liked the clear chopsticks and snapped a quick photo of our place settings.
I will say that this place was noisy. This is no fault of the restaurant itself though, it's simply what happens when you place a restaurant inside a casino. One table nearby in particular were clearly having a very fun time and the quiet that settled after they left was palpable. We went on a Monday night and it was still awkward to have an intimate conversation, so I can only imagine what it would be like on a Friday or Saturday. This didn't particularly diminish the experience for me but it is something to note if you're looking for a quiet date night.
Once we were settled our attentive but not overbearing waiter asked if we wanted drinks. I started with a cocktail called a Geisha's Secret, that was listed as containing Kai lychee vodka, shōchū, Calpico, and pomegranate juice. When I got to the bottom I found what I assume to be the geisha's "secret", an actual whole lychee! I was delighted because I love lychee. Keith went the safe route and ordered a beer; a Tokyo Black porter which had this delightful little Sumōtori butt on the can. I followed up with a Morimoto-tini for my meal, which is vodka and sake. I've never been one for gin so this twist on a vodka martini was perfect. I avoided eating the cucumber garnish though, as to not inadvertently kill my dining companion (more on this in a moment). This was a much cleaner and more subtle cocktail, and suited the sushi much better than the first one would have.
Of course, the most important part of a restaurant is the food, right? So how was it? Undeniably fantastic. We started with an order of gyoza and then decided to go with the chef's choice sushi plate. The gyoza were flavourful and the perfect balance of soft and crispy, and the fish was the freshest I've ever had in a landlocked state. Keith is allergic to cucumber and avocado which can make rolled maki a challenge, but they were very accommodating and gave us a selection that was safe to eat (and yes this is why I ignored the garnish in my cocktail) while remaining utterly delicious. The hamachi nigiri with scallion and lemon zest alone was a revelation. I could have eaten an entire plate of those alone!
However, that one single plate of sushi alone was one hundred and sixty dollars. I realise they're highly trained chefs using very fresh and clean ingredients, and we certainly didn't leave feeling hungry or wanting more, but that still works out to roughly six dollars per piece of sushi.
Dessert was a delicious toasty pot of genmaicha and a spectacle of a dessert, a brownie with marshmallow creme topped with a chocolate dome that was melted at the table. It didn't feel particularly Japanese but in retrospect they do a lot of incredibly elegant western-style pastries now so who am I to judge? It was rich and indulgent without being overwhelming, but I am very glad we decided to split one dessert. Eating this alone would have been a challenge!
I managed to get a video of part of the fantastic dessert spectacle, but missed the actual opening of the dome. I was too distracted by chocolate and fire.
The inside had a delicious pillowy marshmallow crème and a brownie bottom. It was a fabulous way to end the meal!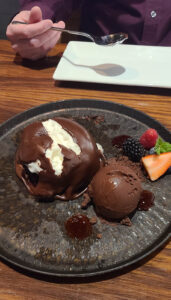 All that being said, was this worth it? It was a fresh, delicious, once-in-a-lifetime meal with my favourite person in the world and as an experience it was definitely worthwhile. If you're in Las Vegas and are looking for a memorable meal, by all means go for it. However, if we're quantifying things solely on the food itself, I honestly feel like as long as you live close to a coast or in a large city, you could get sushi just as fresh and delicious for a more reasonable price.
Of course, I did have to dress up for this, right? Had this not been travel-within-travel (flying from Montreal to southern California and then driving from there to Vegas) I may have been tempted to wear a kimono but I knew it wasn't realistic, especially with the shoulder injury I am dealing with. Instead I chose to wear this black dress with very kimono-influenced kiku designs I got at Wal-Mart, of all places! The dress was originally much too short for my gargantuan frame (for those of you unaware, I am 5'10" and change, or 179cm tall and built a bit like a retired linebacker gone soft – yes that is a normal sized door behind me) but my dear friend @taylor_goodacre managed to insert a black panel around the waist that was reminiscent of an obi. A pink faux-leather obi-style belt and my moonblossom earrings fit perfectly and added just the right finishing touch to the outfit.
If you do plan to go and want to dress up (either in Japanese-inspired western clothing like this or full-on kimono) just remember that while the restaurant itself is lovely and elegant it is inside a casino food hall which means people in various states of dress from resort casual to formal will be wandering in and out. So if you're the type of person who feels self-conscious when over-dressed, that is something to think about. I am a ridiculous peacock of a human being so I was fine with it, but it's worth bearing in mind.