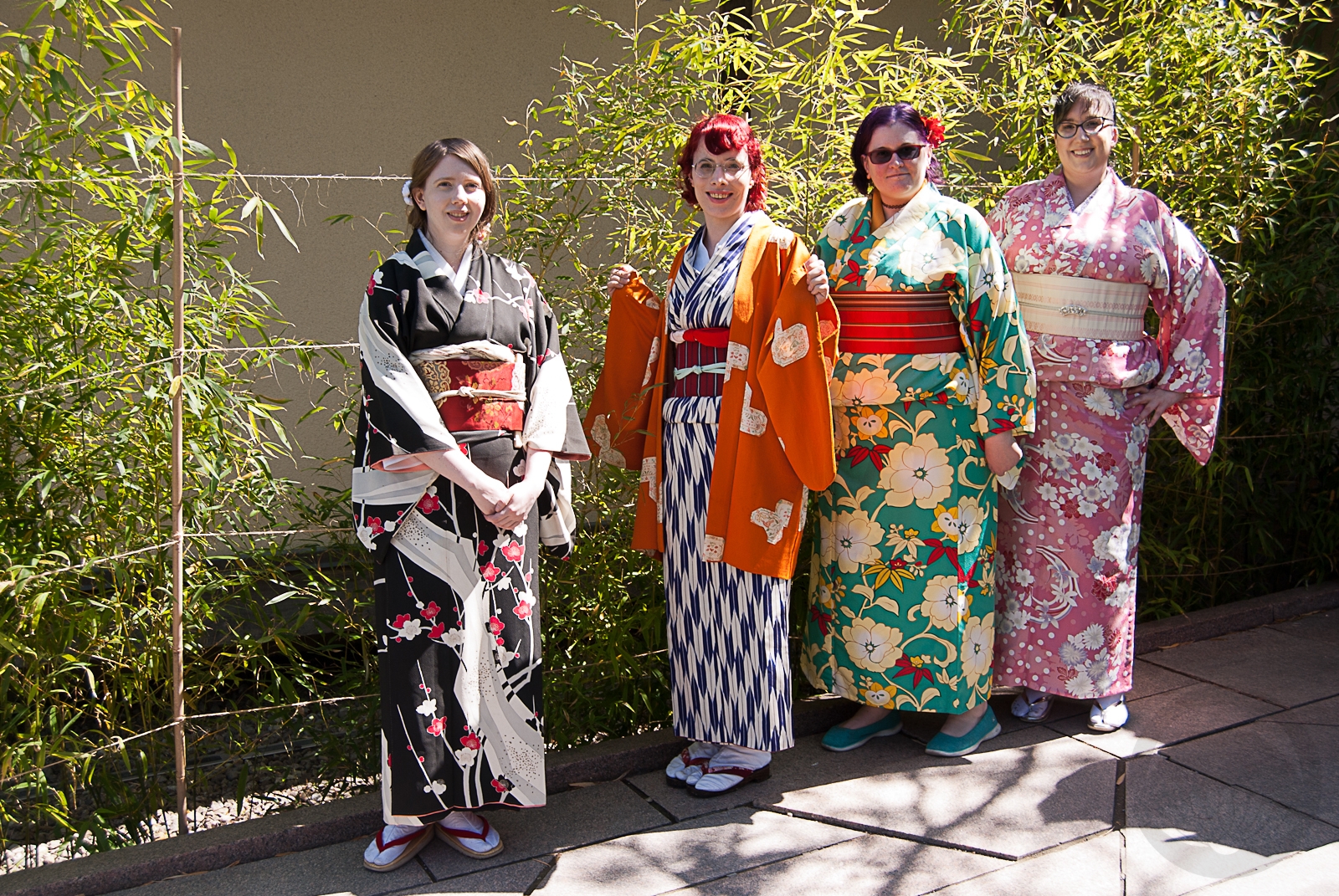 On Sunday, a few members of the Montreal kimono club got together at the Montreal Botanical Gardens to have our own little O-hanami. The climate here isn't ideal for sakura, but we've got lots of crabapples which look almost as lovely and are almost as transient and ethereal.
I had a blast. We met lots of awesome people, posed for a bunch of photos, and generally had a great time. Although it was slightly marred by me tripping at one point and pulling the hanao out of my zori. I spent the bulk of the day walking in tiny awkward steps, gripping my shoe with my toes to prevent falling off. Eventually I just gave up and walked around in my tabi, since they'd gotten dirty when I tripped initially. A bit gauche, I know, but better than spraining something. Especially since I'm still recovering from falling down the stairs a few weeks back.
This post is going to be incredibly image-heavy, because everything was lovely and also we're a bunch of silly people who like to ham things up. Click through for kimono, taiko drumming, and a lovely ikebana show!
Of course, we all used it as an opportunity to dress up. I wore my brand new large Kimonomachi kimono, and lent my teal one and a coordinating hanhaba obi to Isabelle, who has trouble finding kimono that fit like I do. Josiane wore a classic yabane komon and accented it with a bright orange haori, and Cheryl wore a beautiful houmongi with ume that were kind of reminiscent of the crabapple blossoms!
I had fun taking individual shots of everyone as well, and they were kind enough to return the favour so I had some pics of my outfit too! I really love how we all have such distinct styles. Cheryl's look was classic and elegant, Isabelle looked vibrant and modern, Josiane rocked it vintage and lovely, and I went cute and girly. Inadvertently, we did a great job of showing how much variety can be had in kimono!
Cheryl
Isabelle
Josiane
Diane
(that's me, for those of you not paying attention)
Montreal-based Taiko group Arashi Daiko and their apprentice group Inazuma were the main events of the day. They chased the clouds away with high spirits and great music. We didn't have the best viewing spot, but I managed to get a couple of good photos. And of course, you don't need to see taiko to appreciate it!
There was also a really beautiful Ikebana exhibit put on by the Montreal chapter of Ikebana International. It was great to see so many different styles and takes, and I found myself very inspired by all of them, so don't be surprised if there are a glut of ikebana posts in the coming weeks!
On the way home, I stopped at the park near my house to grab a few more photos. There were a couple of really sweet young girls in the park who all oohed and aahed over my outfit. That never gets old!
Items used in this coordination