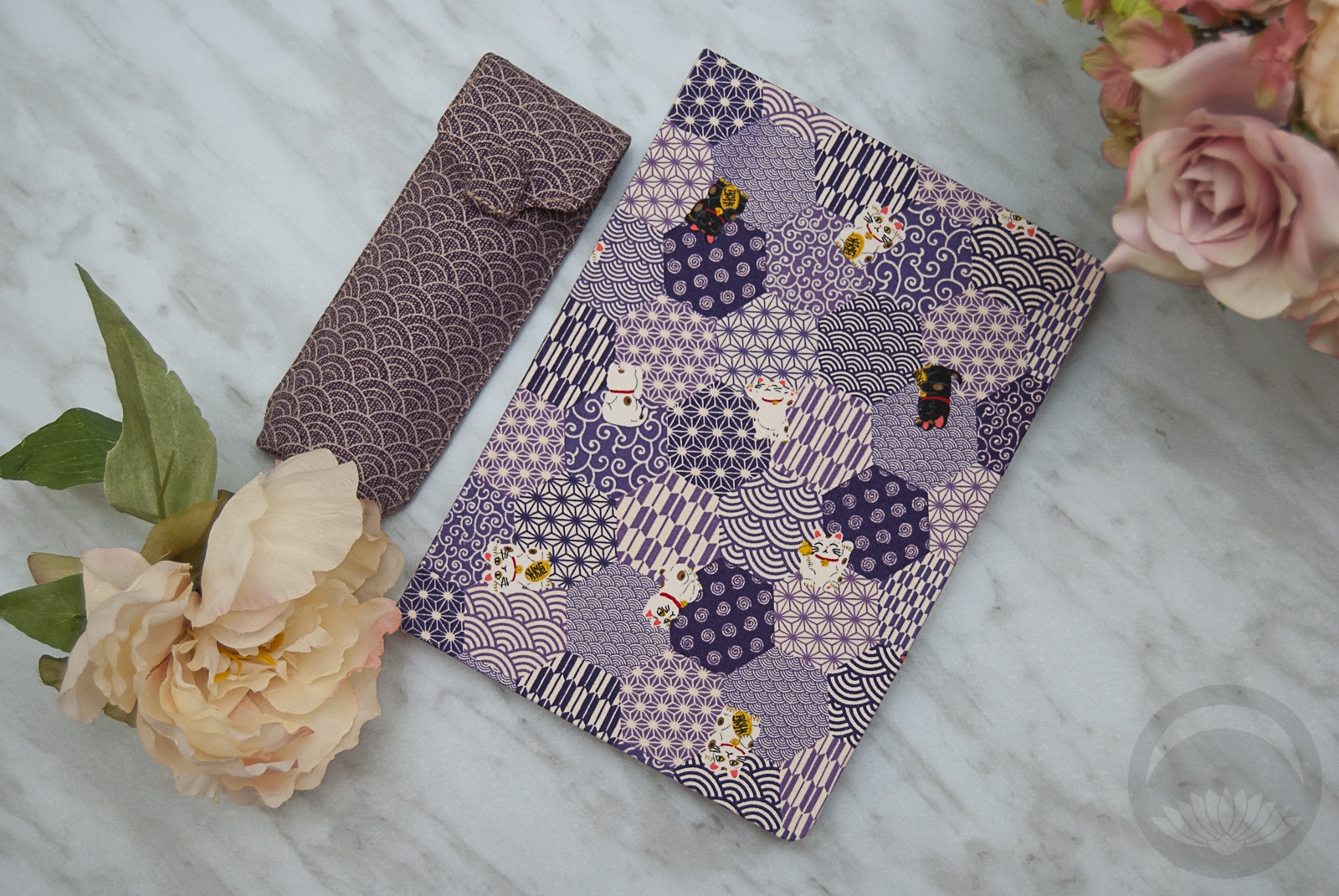 I have a little something different for you today! From Musubi Atelier, a set of absolutely gorgeous diary and pen case. They are crafted from an assortment of Japanese fabrics with traditional motifs and colours, and the notebooks are filled with unlined Japanese paper that's incredibly delicate and smooth but still somehow durable. It's really a work of art. Even the presentation packaging sleeve is solid and high-quality, and feels luxurious. It makes me a little bit sad that the pen case wasn't packaged similarly, but it doesn't detract from the item itself.
I chose the Maneki Neko motif journal in Murasaki (purple) and a coordinating pen case in Murasaki Seigaiha. They're not a matched set, per se, but they do look lovely together. For the journals, there are lots of patterns available, from more mature and subdued geometrics to cuter motifs like rabbits and owls. Currently, the pen cases are only available in different colours of seigaiha, but there may be more options in the future.
One of the most amazing things about Musubi, however, is not the style or quality of their merchandise. It's their mission, their ethics, and their craftspeople. You can read their entire story and statement on their website, but here is the most touching and important bit.
Our twin operations in Singapore and Indonesia exemplify our philosophy of direct impact: in Singapore, our bookmaking atelier employs only persons with physical and intellectual disabilities, providing them the employment stability and opportunities they previously lacked. In Indonesia, we train women from abusive family backgrounds in the same high-tech methods used to make our pen cases, providing them the skillset necessary to gain financial independence and escape their unfavourable circumstances.
My journal even came with an insert signed by the person who made it, which I think is an amazing touch.
One caveat – these items are not cheap. The journals vary from approximately $80 USD to approximately $130 USD and the pen cases are approximately $65 USD (these are estimates, as site prices are listed in Singaporean dollars and the exchange may vary). These are not "buy a few and throw one in your handbag" notebooks, they are meticulously hand-crafted works of art. They would make a beautiful gift for an important milestone like a graduation, a new job, a wedding, or an important anniversary. You're paying for fantastic quality and very high-end materials, and more importantly, you're bringing a better quality of life to the artisans who make them.
 I purchased this item at a discounted price for honest review purposes.