Have you ever wanted to bring a little bit of Zen mindfulness into your home? Maybe as a way to focus on yourself for a few minutes during a long work day or to decompress after a marathon session of cleaning? Island Falls Home has got you covered.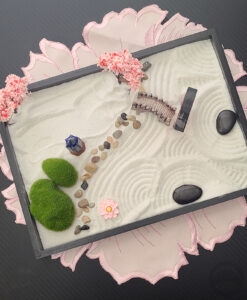 As some of you already know, I live with anxiety and OCD, and I have a strong suspicion I'm also dealing with ADHD. Anything that helps me calm down and focus is a welcome addition to my life. I have a little bowl of fidget toys on my desk but I wanted something that took a bit more effort, and felt a little more mature. I'd been looking into small desktop-style zen gardens for a while but frankly all the ones I saw felt cheap or tacky. I've found ones with sand that was far too large, ones that included ridiculous little tchotchkes like garden gnomes, ones that were all plastic and flimsy-looking, and ones that had absolutely no sense of scale (giant maneki nekos next to a torii gate the size of your thumb…)
But then I found Island Falls Home. They are a small family-owned business based in the UK, and all they do is sand gardens. This sort of focus allows them to source quality pieces and stay on theme with their products, and that attention to detail really shows. They currently offer two zen gardens (the Traditional kit, which I have here, and the Oasis of Calm which is beautiful and looks like a rippling pond) and one sand planetarium.
I knew when I found their products that I wanted to share them with you all, so I reached out to the owners. James was lovely and through our interactions it was clear that he has a true passion for traditional Japanese arts and culture, and you can tell these kits are a labour of love. He was incredibly generous and offered to send me one to check out at my leisure. To save on overhead I arranged to have it sent here to California, and I've been testing it out for almost two weeks now, and love it.
The attention to detail is obvious from the moment you receive the kits. The packaging feels elegant and sturdy, and everything is carefully and lovingly organised and protected. From the tissue wrapping to the bow on the tool box to the well-designed insert, no detail has been overlooked here. The presentation would also make these a fantastic gift.
But what really matters is the garden itself, right? Thankfully that attention to detail is continued throughout.
The kit comes with a wide variety of accessories. There are two sakura trees with bark bases to help them stand up properly, a cute little bridge, a torii gate, a lovely little pagoda, and a selection of stones and moss for a touch of nature. My only (very minor) issue is that the pagoda is ceramic and feels very high quality but the bridge and torii are plastic. They're still very well-made and nicely detailed, but I'd love to see all these pieces in ceramic to add to the luxe feeling of the kit.
There's also a fantastic assortment of handcrafted bamboo rakes and tools, which allow you to meditatively create infinite designs in the sand. The sand itself is incredibly fine and smooth and clean, and clearly high quality. This is a place where a lot of kits cheap out, and it's obvious Island Falls Home did not. It's sourced from a company in Ontario, which as a Canadian is a nice little bonus. I do wish the kit had some sort of storage container for the sand if it needs to be put away for storage, travel, or moving, but a quart-sized food storage bag would work for the time being.
I could take hundreds of photos of the permutations I've created with this kit, but I'd rather be a bit concise and focus on this set up I did trying to feature as many items as I could. The end result is cohesive and uncluttered, and allows for a lot of meditative motions. I also don't want to influence anyone who buys these kits, I'd rather you let your own moods and emotions guide you.
Overall, if you've been looking for a desk zen garden, or even if you hadn't considered one before but now see the appeal, I highly recommend these! You can grab the Traditional Zen Garden kit on Amazon here, or the Oasis of Calm kit here. Prime day is coming up soon, which could be a great time to take advantage of free shipping if you're considering one of these.
 I received this item from the retailer or manufacturer for honest review purposes.If you have a topically appropriate craft, product, or service you would like me to review, please contact me.This post contains affiliate link(s). If you choose to purchase, I receive a small rebate or commission which goes to the continued maintenance of this site.