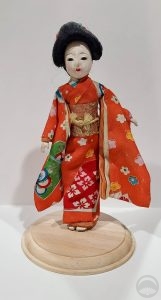 I'm still in California, which means still no access to my kimono, but I do have something utterly charming to share with you today! I have wanted one of these Japanese Dolls with Six Wigs for as long as I can remember, having stumbled across one on eBay years ago. Unfortunately, they're slightly awkward to ship due to the wooden box and often in very bad shape due to years of play and/or neglect. They were created primarily for the post-occupation tourist market, as little souvenirs to bring home for your sweetheart or daughter. Most often the doll's name was Hanako, but I have also seen Fukiyo. There was also a Noh-theatre style male doll who is much harder to find.
I recently found out that Goodwill auctions off items online and when I saw this one that would ship here to California. Her box was in rough shape, broken in places and missing a lid. I also suspect it's been repaired at some point in the past, as I've never seen one in this arrangement of six wigs on one side and the doll on the other – the doll is almost always in the middle of the box with three wigs on either side. However, the box is really secondary here – the doll herself and most importantly the wigs looked to be in quite reasonable condition, especially for the under ten dollars the bidding was at. The wigs are the most frequently damaged pieces, as they're so small and delicate. I threw out a bid and left it to chance, and somehow nobody else bid. I guess Goodwill isn't quite as well-established for the Japanese art and history community as eBay is! They even included this lovely folded furoshiki gift box. I haven't had the heart to unfold it yet, it's just so cute as it is.
The first step was cleaning up the doll and creating some sort of a display base for her. Her face was very dirty and I'm not sure if she ever had a stand of any sort, but she definitely is not built to hold herself up. Her body is made of stiff paper that's crumpled over the years, and her hands and feet are held on with very thin wire that won't support her weight. Cleanup was thankfully very easy, I simply ran a moist cotton swab very gently over her face and it brought her from a dingy grey to a lovely bright white. Unfortunately the gofun over her face is cracked on one side, but I still find her adorable. The base was made out of a decorative wood plaque and a chopstick, of all things! I simply drilled through the plaque, glued the chopstick in at the correct height, and then cut the end off. It tucks up into her kimono and holds her quite solidly, but she's very easy to remove. Repairing the box was easy – a bit of wood glue, some tape to hold things together as the glue set, and voila. The wigs themselves needed hardly any attention, I just smoothed out some errant hairs with my finger tips.
I will fully admit that katsura (traditional-type wigs) and traditional hairstyles in general are not something I'm particularly knowledgeable about. If anyone can tell me what wig or hairstyle these are meant to represent, I would be forever grateful. I'm fairly certain the one with the yellow front is meant to replicate a male chonmage style, like a performer would wear for playing a male role, and the one with the blue comb seems to be a sort of tsubushi shimada, but I may very well be wrong!  Here are some close-ups and detail photos of each of the wigs.
I am so happy I finally got my hands on this little darling and can't wait to introduce her to my other rescued vintage dolls back home.