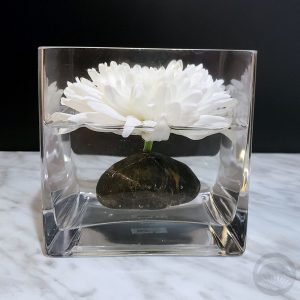 A very clean and modern arrangement for today. My initial plan was for a few flowers anchored in a fair bit of water, but then I found this beautiful dense white mum that I knew would fit perfectly in this glass cube.
The stone at the bottom helps ground everything but makes sure the focus remains on the bloom. I really like how uncluttered the whole piece is, and I realised as I was assembling it that I had nods to all the elements working in tandem. The water is self-evident, and the stone clearly echoes the earth. The glass is transformed by fire, and the flower is balanced between water and air. I don't normally post so many photos but this arrangement looked neat and unique from different angles, and I couldn't resist it.
As this is the last weekend of the month, August's #monokimono outfit should have gone up today but I've had rather a long week, I'm having a bad pain day, and I don't have the energy to wrestle with the mannequin. It will be posted tomorrow!