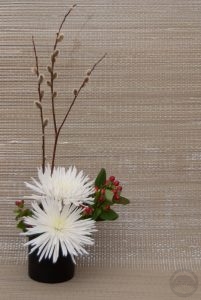 Here is is, guys; my first attempt at a proper ikebana arrangement! After spending the past week and a half poring over the books I've received. There's two still in the mail, but the ones I've got already help a ton. There is so much to learn, and I suspect in a year or so I will look back on this one with embarrassment, but for now I'm very proud of myself.
For this first project I wanted to keep things simple, so I stuck with a moribana-style arrangement with three types of plant materials representing the shin, soe, and hikae elements. The pussy-willows were chosen to represent the upcoming spring, but also to remind me of my grandmother Lorraine, whose collections and passions for Japanese art have always inspired me. She had pussy-willows in a glass vase in her apartment at all times. The white spider chrysanthemums felt like an ideal way to represent Japan. The red berries represent the last of winter, and bring a bit of colour and rhythm into an otherwise very quiet arrangement.
This was very soothing for me to make, and I'm very much looking forward to continuing this project as I get more access to flowers and greenery.