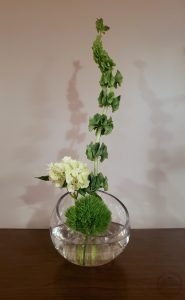 It's been way too long since I've worked with flowers! I did one little arrangement during the April A to Z challenge, and before that it was last autumn.
To say I'm out of practice would be an understatement. But I'd been itching to do some ikebana for a while now, so today while I was out running errands I dropped by my favourite florist to see if anything inspired me. These funky green bells-of-ireland caught my attention and then I found the green ball dianthus that made me immediately think of marimo. And thus this inadvertently aquatic green arrangement was born. With the water and the green ball, the hydrangea mimics sea foam or bubbles, and the bells-of-ireland give height to the arrangement and evoke some sort of underwater plant, or possibly the tentacles of some mysterious sea creature!
As ikebana, I'm not sure how successful this was. It's very free-form, but still evocative and sleek. Considering how rusty I am, I'm quite happy with the end result.
In other news, my finger is almost healed now, so be on the lookout for some kimono coordination in the near future!