Hello everyone! I was all set to change the mannequin today to feature my adorable new obi with shrimp on it and then I went and drove a utility knife into the base of my finger. Whoops! It hurts like the dickens, and I'm afraid of getting blood everywhere, so no kitsuke for a while!
Instead, I thought I would share this "recipe" for a matcha-based drink I make and enjoy when it's hot and muggy out. I hope you try it out and like it too; it's a nice twist on a typical matcha latte. It's a delicious combination of earthy matcha and sweet, spicy chai. I present to you the matchai latte!
Ingredients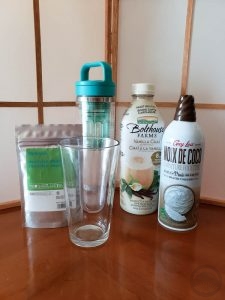 2 tsp matcha of your choice (I'm using David's Tea Matcha Matsu here)
2 oz hot water
2 cups chai (you can make your own, but I use Bolthouse Farms Vanilla Chai for this and it's delicious and a lot easier)
Optional- If you're not using a pre-mixed chai drink, a dash of honey or sugar can help balance out the earthiness of the matcha
Instructions
To make the matcha concentrate, whisk the tea and hot water vigorously or use a matcha shaker if you're lazy like me (I like this one from David's Teas) until your matcha and water are well-blended and form a thin paste. If you're using a sweetener, add it here.
Pour your matcha concentrate into a tall glass, then add ice cubes if you like your drink really cold (personally I find the cold temperature of the chai enough to cool the drink down). If using ice, don't pour the matcha concentrate over the ice, it tends to clump up and get stuck and not blend well.
Fill the glass with your chai beverage.
If you're feeling fancy you can top the drink with a dollop of whipped cream or whipped coconut milk and a dusting of matcha. I think this adds a nice richness to the drink and makes it look elevated.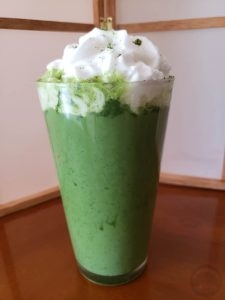 That's it! You now have a delicious, refreshing, and unique drink that will rival the fanciest tea/coffee place.
(None of the links here are affiliate links, I just thought I'd share what I use!)