You guys know I love bringing you modern, accessible products that make it easy to incorporate a bit of Japan into your daily lives. Abokichi is a Canadian company run by life- and business-partners Jess and Fumi, and is a true fusion of East and West.
Abokichi means "Fortunate Avocado," a coinage from "abogado", a South American fruit which has found a place in cuisines all over the world, and "kichi" which means fortunate in Japanese, to express the blessing of the diversity of different cultures in the world.
With the world still half-closed and social distancing still in effect, we're all eating at home way more often, and it's easy to fall into a rut when cooking. But these are a great way to stir things up without having to rely on overseas shipping or products laden with preservatives.
Currently Abokichi have two offerings, both available in multiple flavours. There's the instant miso, which comes in regular, chili, and black pepper; and their Okazu condiment, a blend of miso, sesame oil, and flavourings, which comes in curry, chili, and spicy chili. If you want to try them all out, I suggest the Tasting Set, which has one of everything at a discounted price.
I loved everything I've tried so far, and I highly encourage you to check them out for yourself if you're interested in quick and easy Japanese-inspired flavours. However, I'd like to share my thoughts and feelings about each product.
Original Instant Miso – A classic, with a familiar but deep miso flavour. If you've ever had miso soup, you'll find comfort with this one.
Black Pepper Instant Miso – The same comforting taste of the original miso with the added punch of plenty of black pepper. My favourite of the three, which is saying a lot because I'm not generally a huge fan of black pepper.
Chili Instant Miso – The added warmth of chili brings a new angle to miso in this one. It's definitely got some heat, but the creaminess of the miso balances it out perfectly.
Chili Okazu – A blend of miso, sesame oil, and chili that brings a really rich and complex umami edge to whatever you put it on. Layers of flavour that all balance well together, with a bit of tingly warmth that isn't overpowering.
Curry Okazu – If you like Japanese curry rice, this is the Okazu for you! A little hot, a little sweet, and utterly delicious, this one is my personal fave.
Spicy Chili Okazu – Fan of heat? Try out the spicy sister to the original chili Okazu. Out of the jar, this one was almost too spicy for me but mixed with food it's perfect for anyone who likes a bit of a kick.
Overall, I liked every single product I tried. The black pepper miso and curry Okazu were my personal stand-outs, but I feel confident recommending any of them. It all comes down to your own tastes and preferences.
If you're looking for recipes or inspiration on how to use Abokichi's products, here are a few things I've whipped up this week!
Black Pepper Miso Soup with Vegetables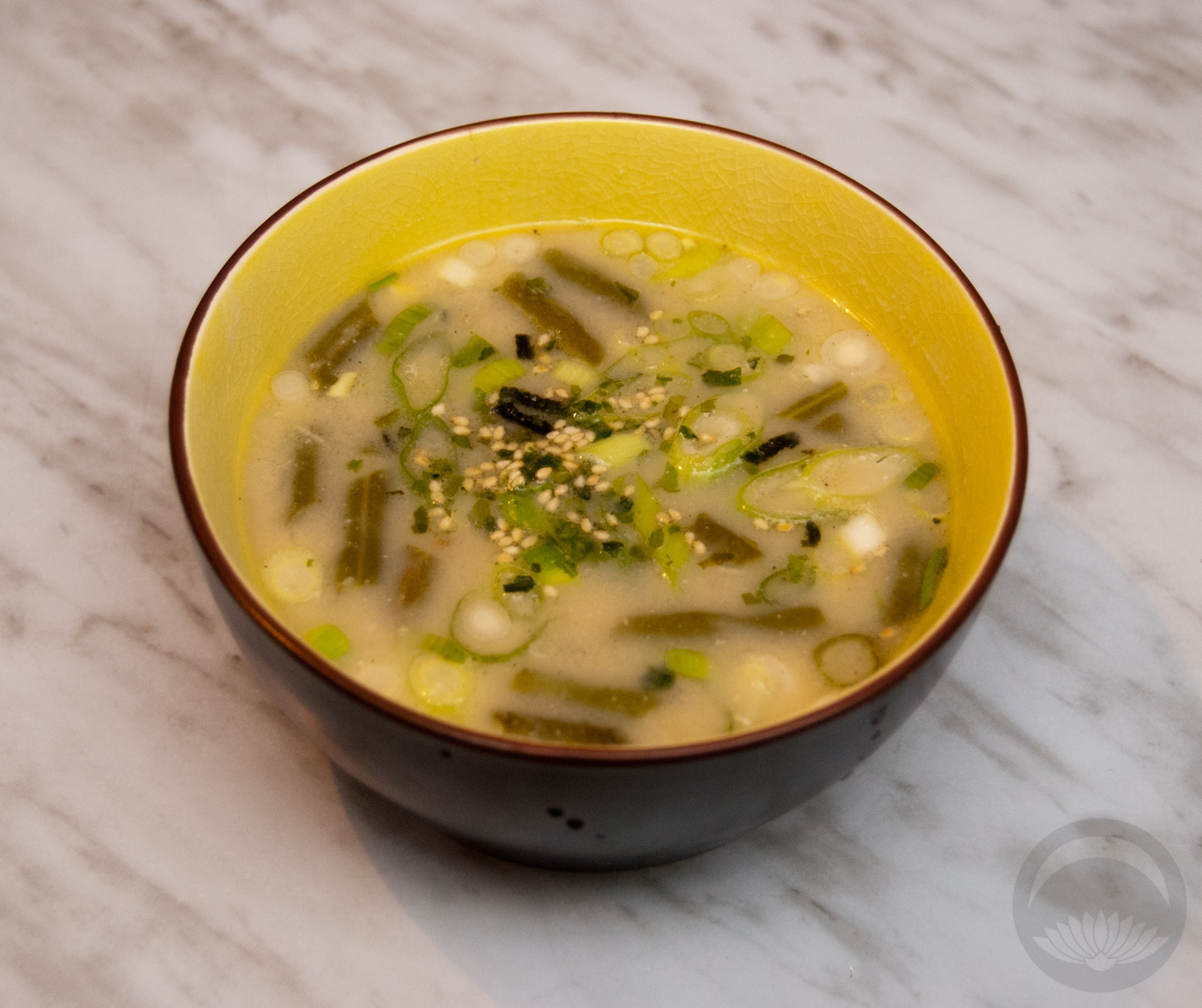 This one couldn't be easier, and it was an absolutely delicious and filling weeknight dinner. I used fresh corn and green beans because it's what I already had cooked and lying around but I imagine it would work with other cooked veggies too.
One full pouch Abokichi Black Pepper instant miso soup
One box low-sodium chicken or vegetable broth
One ear (roughly 1 cup) of cooked fresh corn
One cup chopped green beans
Three spring onions, separated into white and green parts
Furikake (optional)
Bring the broth and miso to a boil together and whisk thoroughly to make sure the miso is smooth and well-incorporated, and then turn the heat down. Add in your chopped corn and beans, as well as the white parts of the spring onions and simmer until everything is heated through.
Serve it topped with the greens from the spring onions and a sprinkle of furikake if you like. Personally, I think it brings another layer of lightness and texture to the soup.
This would also be delicious with tofu, fish, or chicken for added protein but with the miso it's quite filling already!
Karaage-style chicken With Okazu Dipping Sauces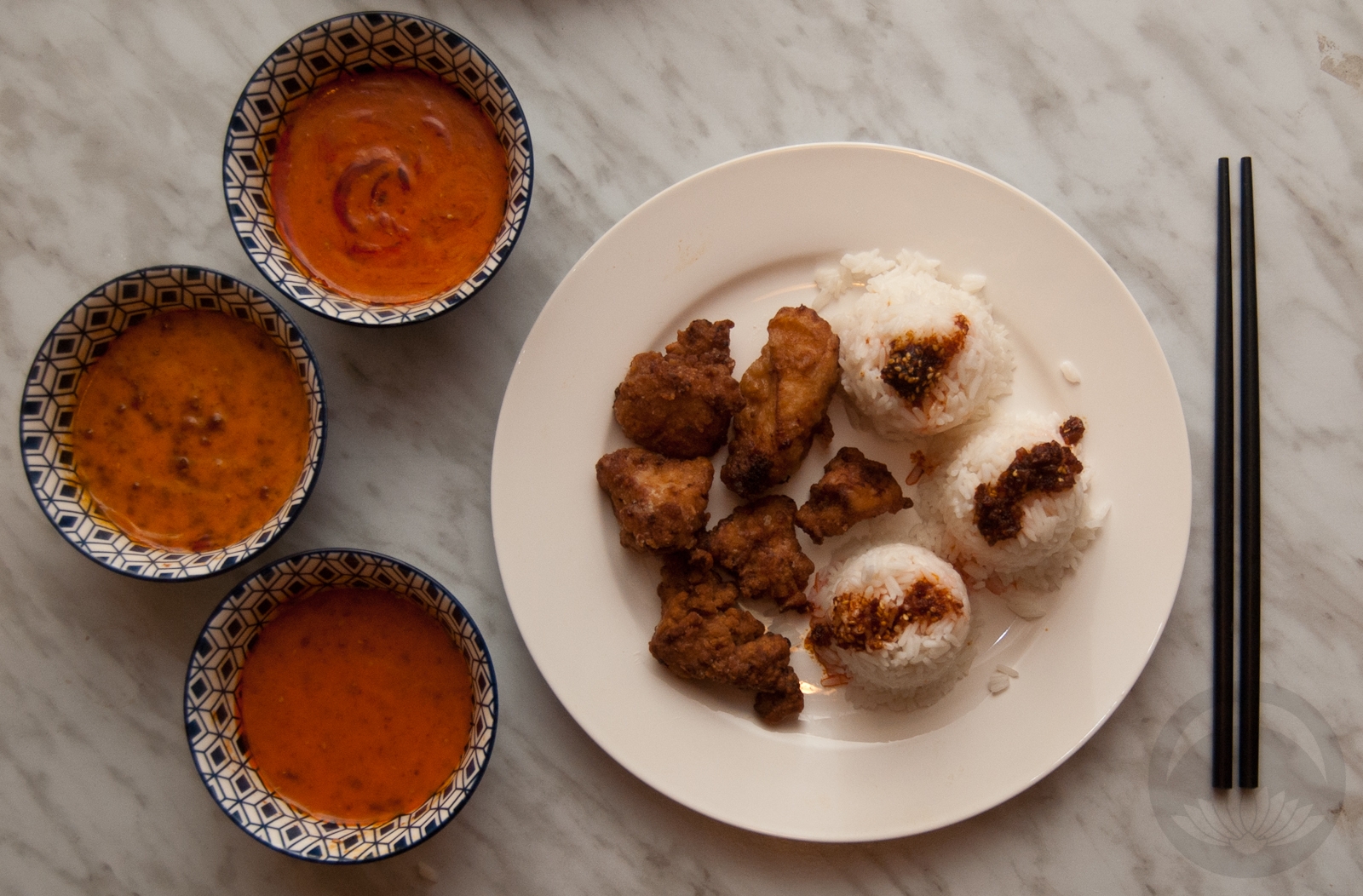 This one's a bit more time-consuming than the soup, but definitely worth the effort. With the accompaniment of the rice, this is a filling meal for four people.
For the chicken
Four boneless skinless chicken breasts or eight boneless skinless thighs
1/2 cup soy sauce
2 tbsp sesame oil
1 tbsp mirin
2 or 3 cloves garlic, crushed and chopped (to taste)
~1 tsp grated fresh ginger (to taste)
Dash of sake (optional)
1/2 cup flour
1/2 cup katakuriko (or potato starch)
For the dipping sauce
*If you don't have Kewpie mayo, try half a cup of mayo and roughly 1.5 tsp each of sugar and mirin
Start by mixing the ingredients for the dipping sauces, so they have time to meld together.
Chop the chicken breasts or thighs into large chunks. Mix all ingredients for the marinade, toss in the chicken. Let the chicken sit in the marinade for a minimum of two hours.
Place a grilling rack onto a baking sheet and put into a 175°F/80°C oven (this is just to keep the cooked chicken warm). Heat enough canola or corn oil to barely submerge the chicken pieces.
Once the oil is hot, take a few pieces of marinated chicken at a time. Toss in the flour-katakuriko mixture until they're coated but not clumpy, and gently drop into the oil, taking care not to crowd the pan. Fry until golden-brown, about five minutes for breasts or seven minutes for thighs, flipping if needed to ensure even cooking. Once cooked, place on the rack in the oven to keep warm. Repeat until all chicken is cooked.
I served the chicken with white rice topped with Okazu so I could taste them in the pure unadulterated forms, and it made a perfect complement to the chicken. I also had a bit of the dipping sauces left after the meal and used them on ham sandwiches the following day, which turned out delicious.
I hope you enjoyed this little foray into my kitchen, and if you try any of these products or recipes I'd love to hear your thoughts. 🙂
 I purchased this item myself and chose to review it.If you have a topically appropriate craft, product, or service you would like me to review, please contact me.