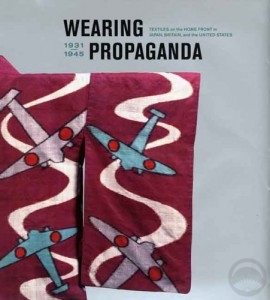 Wearing Propaganda
by Jaqueline Atkins for Yale University Press
Language: English
ISBN: 9780300109252
Amazon.com Listing
Yale University Press Listing
This review has been a long time in coming, but the book is so incredibly fascinating that I wanted to ensure I did it justice. I ordered this on eBay quite some time ago, but the international shipping turned out to be so incredibly expensive I had to have it sent to a friend I was visiting in the United States. It was a bit of a hassle getting it, but it was definitely worth it from a research and historical standpoint. The book is absolutely fascinating.
I should make it clear that, despite the cover, this is not specifically a "kimono" book. It is an anthropological study and catalogue of propaganda clothing during World War II. The bulk of the book is split between the USA, the UK, and Japan, but the clothing from Japan is by far the most striking. I say that not only because I am a collector, but because it's the only country where the propaganda items are regularly integrated or hidden in "everyday" clothing, instead of on flags, bandanas, etc. I find it incredibly fascinating to see how they incorporated such striking and symbolism-laden motifs into the traditional Japanese aesthetic.
While there are some beautiful photographs, this is primarily an academic catalogue, so don't expect models wearing fabulous outfits or tips on coordination. However, if you have an interest in the evolution of kimono and how world affairs can impact fashion and culture in unexpected and dramatic ways.
It is also important to keep in mind that since Japan was on the "wrong" side of the war in the minds of most of the world, there are some pretty striking images in here. The book pulls no punches when it comes to startling imagery such as bombs and bomber planes, Swastikas (not to be confused with traditional manji motif), etc. You need to approach these with an open and academic mind, and remember that some of the garments in this book come from a time that is a scar on the Japanese psyche as well.
I would recommend this book for:
-People with an interest in historical clothing in general.
-People studying propaganda and war history.
-People looking for original and unique items.
I would not recommend this book for:
-People looking for coordination ideas.
-People looking for how-to and kimono dressing books.
-People interested in ancient kimono history – this covers only the time around WWII.
This post contains affiliate link(s). If you choose to purchase, I receive a small rebate or commission which goes to the continued maintenance of this site.