I never set out to assemble a full wedding white ensemble, but once I had, it only seemed logical to feature it as a #monokimono outfit. Since lots of folks are still talking about the recent Royal Wedding, I decided to run with it for May!
I originally got this ivory silk uchikake waaaaay back when I first started collecting. I had no intention of buying one, but a professor in the college IT lab where I was working overheard me talking to a co-worker about my collection and asked if I'd be interested in buying a piece that'd he brought home from Japan as a souvenir years earlier. I said I'd take a look, but I'll be honest, I was fully expecting some satiny tourist robe. So imagine my shock when he showed up lugging a gorgeous warm ivory uchikake in a trash bag! Of course I had to rescue it, and he accepted my ridiculously low offer.
Fast-forward to earlier this year when I stumbled across an astonishingly inexpensive ($18) ivory shiromuku furisode on Ichiroya. Since neither piece was pure white, I expected a close coordination but not an exact match, so you can imagine how thrilled I was when I discovered they're spot-on perfect.
The rest of the accessories kind of fell into place after that. I love the look of beaded obijime, and found a white one on the cheap. The hakoseko set was also a bargain and happens to tie my silver zori into the outfit really nicely too. I don't usually include footwear in these outfits, but with a wedding set it's really Go Big or Go Home, right?
Technically, I should have used one of my off-white fukuro obi, but I couldn't get over how well the hakata coordinated. And I'm firmly of the mindset that hakata ori goes with everything. Since this isn't actually being worn to a wedding (unless my mannequin's hiding something from me…) I figured I had a little more leeway. It's also not unheard of now for brides to add a little more personal and non-traditional touches to their outfits. I love this look with extra lace and a lovely hat instead of the traditional white tsuno-kakushi hood, for example. Since I'd veered off-track with the obi already, I couldn't resist using my silvery-white beaded obijime as well. This also makes the fact that I've yet to find an ivory kakae obi (the narrow, stiff band worn below the regular obi) a little easier to overlook, honestly.
Bonus: For those of you who miss my furry little interlopers, they're still around, they just tend to ignore the mannequin. Tribble decided to show up today though!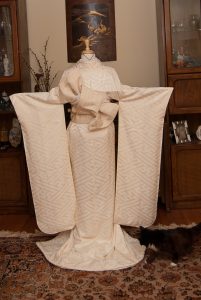 Items used in this coordination