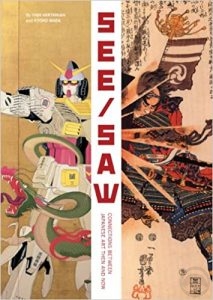 See/Saw: Connections Between Japanese Art Then and Now
by Ivan Vartanian & Kyoko Wada
ISBN: 978-0811869577
Buy on Amazon | Buy on AbeBooks
If you're like me and you appreciate both traditional and modern Japanese decorative arts, you need this book. It's an incredibly well-researched and well-written exploration of how traditional motifs, styles, and techniques of Japanese traditional art have influenced modern popular art.
Whether you're a fan of Kunisada or kawaii, temples or Transformers, this book will probably have something to show you. Often the antique and modern art are juxtaposed on the same page or facing pages, so you can see the influences and connections directly. Everything visual about this book feels deliberate and well thought-out, which is reassuring in a book about design and art. It's a pleasure to look at, even the text-heavy pages. It's relatively compact but densely filled with gorgeous pictures and fascinating information.
The writing is informative and clear without being overly dry or academic, which makes it an enjoyable read for people of all interest levels. It's not a textbook and doesn't feel like one, but I could easily see it being an excellent academic resource.
Here's a small sampling of a few interior pages, to give you a feel for the comparisons I made above.
Also, this is a small thing but I want to thank the authors of this book for engaging in fun wordplay in the title but not going down the lazy/obvious route of calling this book Zen and Now.
I would recommend this book for:
Anyone interested in Japanese art
People studying the evolution of art styles
Art history students or fans
I would not recommend this book for:
People only looking for books about traditional art
Uh… people who don't want to learn cool things, I guess?
 I purchased this item myself and chose to review it.This post contains affiliate link(s). If you choose to purchase, I receive a small rebate or commission which goes to the continued maintenance of this site.