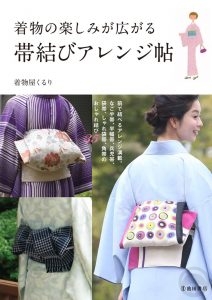 着物の楽しみが広がる 帯結びアレンジ帖
(Kimono no Tanoshimi ga Hirogaru Obimusubi Arenji Jō)
by Kururi
Language: Japanese
ISBN: 978-4262160238
Amazon.com Listing
Well, that title's a mouthful, isn't it? It essentially translates to Expand your Enjoyment of Kimono; Notes on Obi Musubi Arrangement (thanks to Tamara for the coherent translation).
This book is an incredible resource for anyone looking to improve their personal kimono dressing and styling. It's entirely in Japanese but the pictures and diagrams are so thorough that it's a negligible issue. It's not for formal kitsuke, nothing useful for kurotomesode, furisode, etc, but it's chock-full of styling suggestions and obi tying alternatives for casual kimono wear. This book is a vital addition for anyone looking to expand their kimono skills and library.
It's got all sorts of basic resources; a seasonality chart, padding diagrams, coordination examples, and a wide variety of musubi for nagoya and hanhaba obi. The obi variations are very well-organised. The book first shows a "standard" tie that most kimono afficionados are already familiar with (otaiko for nagoya obi, chocho for hanhaba obi), and then shows variations using the same starting-off points. There's even a few examples of women's styling using a narrow men's kaku obi.
I've scanned a few pages to give you a feel for the book (and how necessary and relevant the text may be), but I urge anyone who collects kimono to pick up a copy. It's quite new, published in January of 2016, so it's still quite easy to find online and it's incredibly affordable for all the information it contains. It's also small and lightweight, very practical to throw in a bag if you're travelling.
I would recommend this book for:
-Anyone from beginner to expert
-People looking for interesting variations on traditional kitsuke
-People who wear casual kimono frequently
I would not recommend this book for:
-People looking for more detailed, artistic images of kimono
-People looking for traditional formal (kurotomesode, furisode) kitsuke help
This post contains affiliate link(s). If you choose to purchase, I receive a small rebate or commission which goes to the continued maintenance of this site.