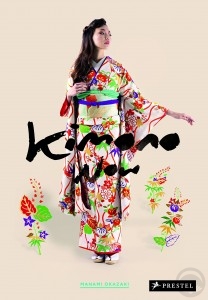 Kimono Now
by Manami Ozaki
Language: English
ISBN: 978-3791349497
Amazon.com Listing
GoodReads Page
Kimono Now is an absolutely wonderful English-language resource about modern kimono culture. I've had it for quite a while but wanted to give my thoughts time to settle before writing this review. I absolutely loved it and wanted to make sure I wasn't jumping the gun with my opinions.
It's a big, lush book that looks as good on a coffee table as it does in your bookshelf. It's broken down into logical and easy to read segments, from the craftsmanship and artistry involved in kimono to interviews and featurettes on modern designers, famous kimono style icons, people remaking kimono into new fashion, and artists working in other mediums who have been inspired by kimono. While most of the people discussed and interviewed are Japanese, the book also takes into account the kimono's influence on the rest of the world and has features involving non-Japanese artisans and collectors, which is very refreshing. It's chock full of gorgeous colour plates and plenty of detailed information that never feels dry. It covers a little bit of everything without feeling like a textbook, which is no mean feat. It's definitely not a how-to guide, but if you're already familiar with how to wear kimono traditionally and just want ideas and inspiration, it's a must-have. If I have any one criticism, it's that someone along the line (possibly the editor or publisher) decided to go with the western standard of pluralising kimono into kimonos, which has always been a bit of a peeve of mine. It's a very minor nitpick though.
I would recommend this book for:
-People interested in modern kimono culture
-People looking to learn more about kimono designers, models, etc
-Anyone searching for inspiration and ideas to develop their personal style
I would not recommend this book for:
-Beginners looking for how-to-dress guides
-People interested only in traditional kitsuke
This post contains affiliate link(s). If you choose to purchase, I receive a small rebate or commission which goes to the continued maintenance of this site.