When I woke up this morning, my social media feed was full of posts expressing shock and sorrow about the passing of David Bowie. People of all ages and genders came together to lament the loss of someone who seemed above such boring human concerns as dying. I'm still not entirely done processing it.
In order to cope, I decided to dress Tsukiko. Rather than go for a typical mourning ensemble, I tried to capture the spirit of David Bowie at his most memorable. He was known for his theatrical and flamboyant personas, for his transcendence of time, space, sexuality, and gender. He was also an avid fan of Japanese culture, and often had stage outfits and clothing inspired by Japan. I set out to create an outfit that defied categorisation; a vintage woman's kimono tied male-style with a low and narrow modern obi, a mid-century haori decorated with chrysanthemums – flowers that once signified queerness.
I'm happy how it turned out. It may not obviously scream his name, but I know what inspired it, and that's enough for me. Farewell, Starman. Several generations of freaks and weirdos mourn today.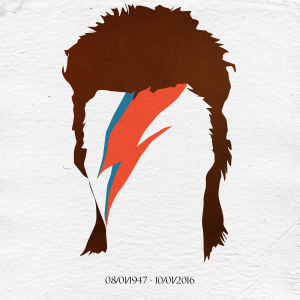 Items used in this coordination