Daruma, 達磨, lucky doll representing Bodhidharma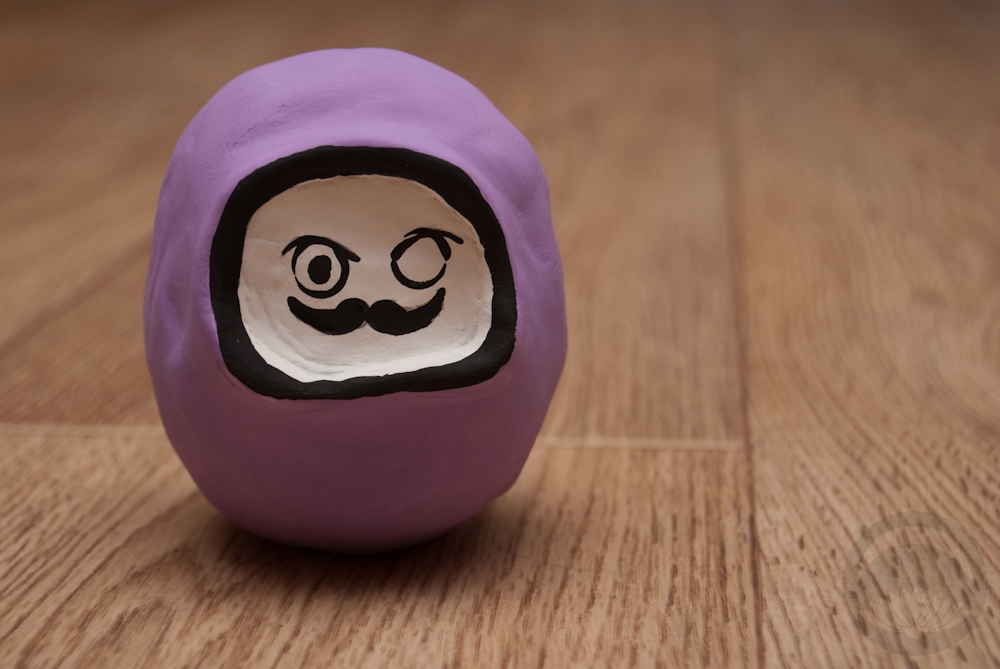 Daruma are those rounded, roly-poly little dolls (usually red, but other colours exist) with a grumpy-looking face. Often one or both eyes are left blank. They're said to represent the bearded face of Bodhidharma, the founder of Zen Buddhism. Nowadays, they're used to set goals and encourage perseverance. When you set a goal, you paint in the right eye in. When you accomplish the goal, you fill in the left. At the end of the year it's common to return the daruma to the temple where it was purchased, for it to be thanked and set ablaze. You would then buy a new one to set a new goal for the upcoming year.
As I mentioned, the traditional colour for daruma is red, but it's becoming more common to see a whole host of colours used to represent different goals. There are varying opinions as to which colour represents what, but some of the most common meanings are as follows:
Red – Luck & fortune
White – Marriage & harmony
Gold or yellow – Finance
Green – Health
Blue – Success
Pink – Love
If you'd like to make your own daruma, keep reading! However, this one is not made of fragile papier maché and should absolutely not be burnt!
Step 1 – Assemble your supplies.

Air-dry modelling clay (white if you can find it, I had grey lying around)
Hollow, egg-shaped container to use as base
Acrylic paint (black, whichever colour you want your daruma to be, white if needed)
Assortment of brushes and pencils

Step 2 – Carefully smooth a thin layer of clay over your form, working from top to bottom. Do not make the daruma entirely out of clay – I tried this first and it dried unevenly and cracked in many places. Learn from my mistake!
Step 3 – Wrap the layer all around the piece, including the bottom, and smooth with your fingers.
Step 4 – Roll out a thin "snake" of clay.
Step 5 – Place it in a "goggle" shape around the smoothest side of your daruma, this will become the face. Let the clay dry for 24 hours.
Step 6 – Paint your base colours; if using white clay you can go straight to the colour but if using grey or beige clay like I did start with two coats of white first. Let the paint dry for a couple of hours.
Step 7 – Paint your face; you can search on Google for more traditional or more cute styles. Focus on your goal, fill in one eye.
That's it! You're done! Place your new daruma where you can see him to help remind you to focus on your goal.