Orizuru, 折鶴, origami (lit. folded) crane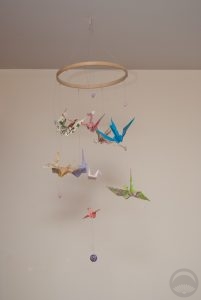 I'm feeling somewhat under the weather again today, I'm afraid. I was going to create a coordinate using some pieces in my collection with the origami crane motif but I'm just not up to it.
Instead, I thought I would share some quick and easy instructions for a really charming little mobile. This piece was made over a year ago and I never thought to take photos of the process, but I promise it's incredibly simple.
I had the cranes already; a couple I made myself but the bulk of them were included in packages from friends or as little gifts with kimono purchases. I really wanted a way to show them off, rather than have them all languishing in drawers.
All I did was carefully pierce holes through the centre of the body of each crane and feed through some very fine beading wire, I used a small jewellery crimp beneath each one so they wouldn't slide down to the bottom of the wire, and interspersed a few tiny orgami lucky stars for some visual interest.
I made several strands of varying lengths, and attached them to the solid piece from an embroidery hoop set, again using the crimps to fix the wires in place. Another wire to form a hanging loop and voila, your own pretty little flock of orizuru!
 This post contains affiliate link(s). If you choose to purchase, I receive a small rebate or commission which goes to the continued maintenance of this site.