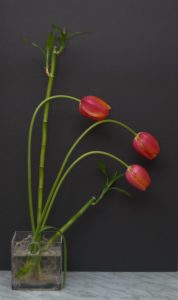 After last week's relatively unsuccessful ikebana I was determined to redeem myself. I received this really neat little tool that I'd ordered called the FloraGUPPY and found three perfect red-orange tulips in the garden so I figured it was time.
One of the tulips had a bit of a bend in it, so I carefully emphasised that into an organic-feeling curve and then did the same to the other two, for a really nice shape and flow. I framed them with two lucky bamboo stems, and really like how sleek this feels. I'm definitely much happier with it than I am with last week's!
The FloraGUPPY is a clear plastic two-part sphere that clips together with a number of different-sized holes. You can feed the flowers through the holes at different angles to achieve all sorts of cool arrangements. While not completely invisible, the clear plastic does look much more seamless than a heavy metal kenzan or other traditional tools. This makes it ideal for sparse modern arrangements in glass containers, exactly like this one. It's also slightly flexible in its default state, which is ideal for putting in odd-shaped vessels. But the really cool part is that if you dunk it in hot water, it becomes even more malleable, making it suitable for pretty much any container! I can't wait to find more uses for it.
I purchased this item myself and chose to review it.If you have a topically appropriate craft, product, or service you would like me to review, please contact me.