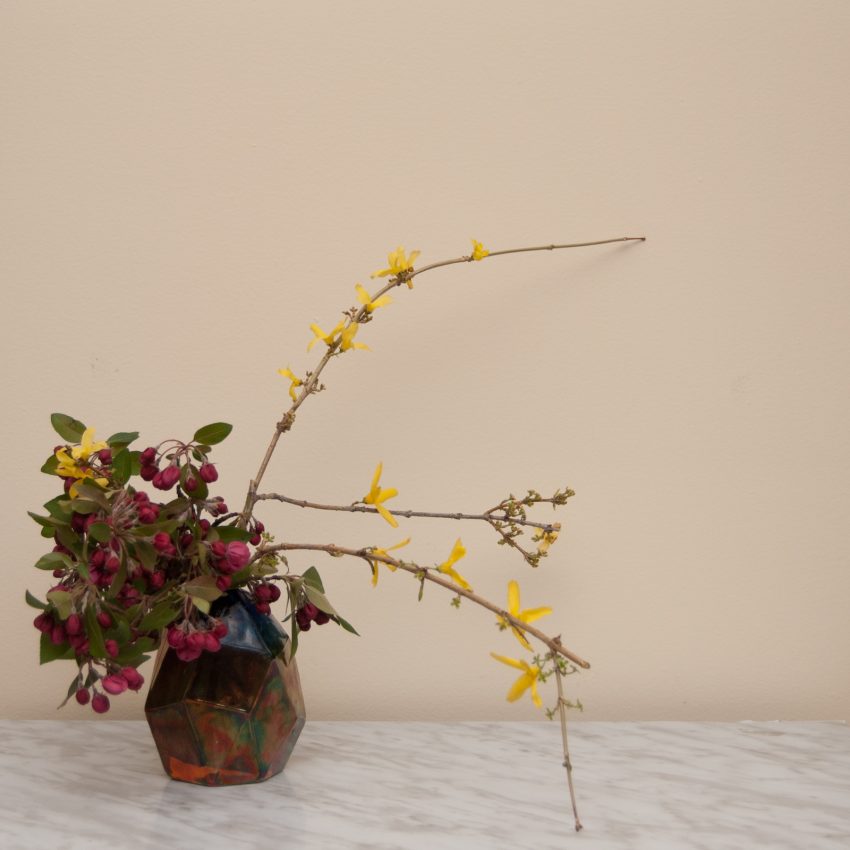 Sometimes being really obstinately determined to accomplish something is the worst way to go about it. I'd been wanting to do something with the flowers from the trees in the park near my house since the forsythia started blooming about a week ago. However, the timing just never seemed to work out.
Last night, I was insistent. I'm still not feeling great and I'd had a long, painful, irritating day at work, but still I was convinced that stopping in the park and getting some branches was absolutely necessary. The forsythia are just beyond their prime and the crab-apples are about to burst open, so it was really the last time I'd be able to pick both of them and have them be workable at the same time.
As you can see though, I was not in the right state (either physically or emotionally) to try to do a decent arrangement. The branches fought me every step of the way and rather than pull back and take a moment to rethink my concept, I just pushed forward and made the best of a less-than-ideal situation. Not the best mindset to do ikebana in, really.
In the end I got an arrangement that feels balanced, at least, and I don't hate it. But it certainly doesn't feel as harmonious as it should, and I think honestly I'd have been better off just waiting it out and focusing on some other type of flowers when I was feeling better. Let this be a lesson to you all; sometimes pushing forward and forcing yourself is good but sometimes it's the world's way of telling you to take a break.