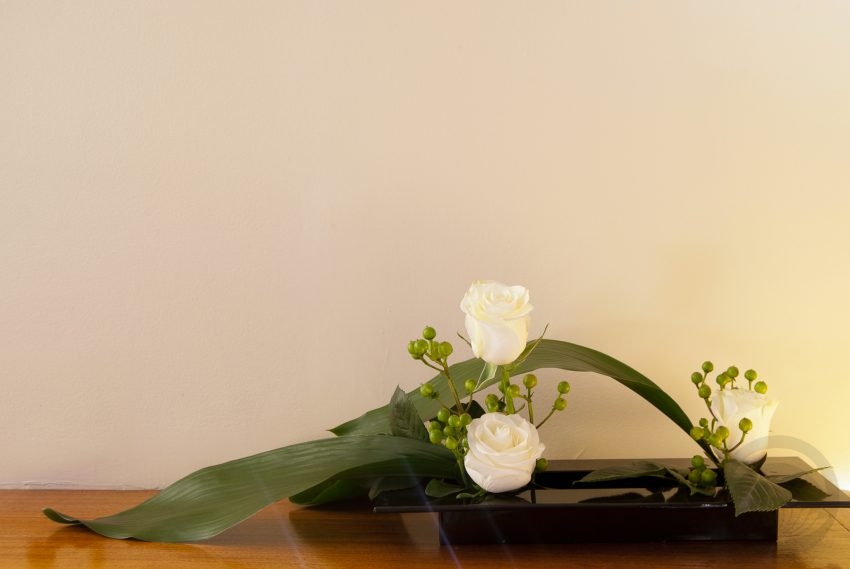 Today marks the 28th anniversary of the École Polytechnique massacre here in Montreal. A man, one who explicitly blamed women for all of his problems and failures, stormed a local university and shot twenty-eight people, killing fourteen women. December sixth has since become a day of remembrance for the women who lost their lives as well as a more general National Day of Remembrance and Action on Violence Against Women.
Today's ikebana is my way of memorialising and remembering the victims. White roses anchor the piece and represent hope, as well as the White Ribbon Campaign. The green buds bring a little texture in and protect the white roses, and the large leaves work to bridge the two disparate halves of the arrangement as well as evoking a bridge to a better world.
I'm fairly proud of this one. I've been trying to do more low, wide pieces and this worked out quite well. It feels balanced and organic as well, which I've come to realise is something I'm very fond of doing.
Realistically, I know that playing with flowers isn't going to change anything in a world where there are still people who view women as second-class citizens, even here in North America. However, I would ask that you please spare a moment today to think of these women who violently and senselessly lost their lives for nothing more than the "crime" of wanting an education. Think of them, and think of the women worldwide who suffer at the hands of society around them.

Geneviève Bergeron
Hélène Colgan
Nathalie Croteau
Barbara Daigneault
Anne-Marie Edward
Maud Haviernick
Maryse Laganière
Maryse Leclair
Anne-Marie Lemay
Sonia Pelletier
Michèle Richard
Annie St-Arneault
Annie Turcotte
Barbara Klucznik-Widajewicz