Totem Tea & Spice is a lovely little shop in Montreal that specialises in, you guessed it, teas and spices. The first time I went in I was overwhelmed with beautiful smells and sights. Aside from delicious custom tea blends, the store is full of interesting objects and artwork. They have tables where you can sit and enjoy a cup of tea and a snack, or even have a little party. It's an incredibly welcoming place with friendly, knowledgeable staff.
When you enter, you are greeted with a lovely table filed with samples of many varieties of tea for you to look at and smell. The first tea I was drawn to was Earl's Pipe. One deep inhale and I was in love. I guessed what was in it without being told, but that's no surprise as it blends two of my favourite teas. It's a comforting, smoky blend of Earl Grey and Lapsang Souchong. In a way, it makes me think of Sherlock Holmes. It tastes a bit how I imagine 221B Baker Street would have smelled in the evening; a good strong but straightforward black tea, with an undertone of pipe tobacco and a hint gunpowder. If you like strong black tea with a lot of character, it's excellent served pure. If you're a little wary of the potent smoky notes of the Lapsang it also tastes lovely toned down with a bit of milk and sugar. However, if you know for a fact you don't enjoy the smoked character of the Lapsang, you may want to give it a pass. My mother refers to it as "that stinky tea" and even counter-balanced with the lovely bergamote notes of the Earl Grey, she still finds it overpowering.
I picked up several other delicious teas that I will likely be reviewing in the future. I also picked up this pretty little art print from local artist Jackie Bassett.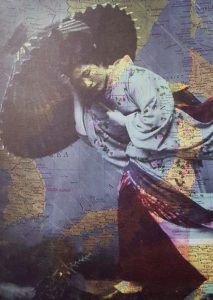 If you're in Montreal, I urge you to stop by Totem Tea & Spice on Notre-Dame West. In the meantime, you can follow them on Facebook.