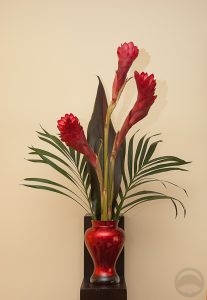 This is what I tend to think of as Hotel Lobby Ikebana. It's big, bold, tropical, and symmetrical, and it wouldn't feel out of place as you're checking in to a nice resort. This isn't a bad thing at all, it's just where my mind immediately goes when I see this sort of arrangement.
For this one, I challenged myself to work from a pre-assembled bouquet from the drugstore, of all things. Who knew you could get ginger flowers in that sort of a place? I love how sculptural and bright they are, and thought this red vase I found at the thrift store would balance them nicely.
I tried to keep the balance and framing I learnt about in last month's ikebana atelier in mind while I put this together, but still kept it more modern and free-form. I liked the idea of symmetry and like how the end result has a pleasant fan shape that also adds to the formal and dramatic feel of it.
I can't wait for the weather to start getting nicer so I can go back to using seasonal flowers from the garden and great outdoors, but for now I'm just glad I have access to interesting plant material.