Today is Hinamatsuri (雛祭, doll festival, girl's day), a day for girls to celebrate, to set up an ornate display of dolls inspired by Heian emperor and empress, and to wish for love and health in the future. I don't have a proper set of dolls, but I do like to do a small DIY every year and celebrate by making a sweet, girly coordination on the mannequin.
This year I wanted to feature this green obi with pastel designs, and thought this blush pink houmongi with sagara embroidery of a shifuku (silk pouch to protect tea ceremony tools) with a rabbit on it would be perfect. It's adorable and feminine and the colours play off the obi so well. Rabbits are also commonly used to represent people in their hina-matsuri doll displays, representing a young girl's wish for a large family when she grows up. The whole outfit feels sweet, girly, and spring-like, which is exactly what I was going for. The blue beaded obijime was chosen to echo the texture of the embroidery on the kimono, and I tied it in a wisteria knot just because I think it looks pretty.
And of course, I couldn't let hinamatsuri pass without doing some sort of DIY display. I've done origami, perler beads, nanoblocks, and illustration. This year I decided to do some adorable sashiko!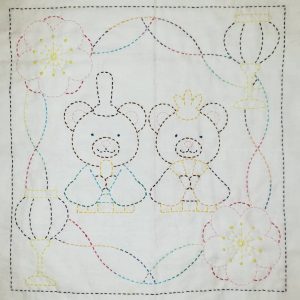 Items used in this coordination