It's been quite a long time since I did a post featuring anime with kimono front and centre. Since then, a bunch of new series have come out. I thought I'd share some of the ones I've particularly enjoyed with you all. If you have any suggestions I haven't mentioned, I'd love to hear them!
---
Kakuriyo no yadomeshi (Bed and Breakfast for Spirits)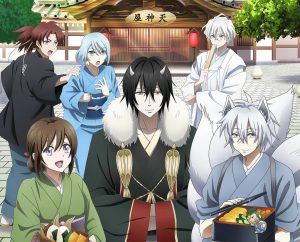 Sadly, this adorable romantic slice-of-life anime seems to have flown under the radar. It's the story of Aoi, a young woman who ends up running a small restaurant in the Hidden Realm of spirits. She wears kimono nearly all the time, as do the bulk of the spirits she interacts with. Of course there's a romance with master of the inn, the ogre king. It turns out her grandfather used to visit regularly and incurred significant gambling debts, and promised Aoi in marriage. The series features a wonderful combination of charming characters, a growing romance, and plenty of delicious food.
Unfortunately, only one season aired back in 2018 and so far there's no hint of a second series at the moment. However, you can still catch that one season on Funimation right here.
Kakuriyo no yadomeshi on Wikipedia
Kakuriyo no yadomeshi on IMDB

---
Maiko-san chi no makanai san (Kiyo in Kyoto: from the Maiko House)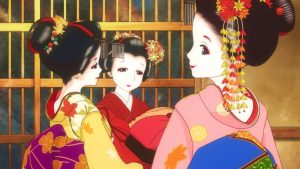 From the spirit world to the modern world, we now go to Maiko-san chi no makanai san. This is the story of Kiyo and her best friend Sumire. They move from Aomori to Kyoto to become maiko (apprentice geisha). While Sumire seems made for the job, Kiyo doesn't have what it takes. Rather than leave embittered or jealous, Kiyo becomes the cook for the maiko house as well as essentially their head cheerleader. She's supportive and encouraging and loves seeing Sumire and all the other girls in the house succeed.
This is a very slow, calm little series. Each episode is split into three chapters, interspersed with "Dish of the Day" featurettes. They get a little repetitive, but give recipes and trivia as well as giving us glimpses of the other girls in the house, so in the end I don't mind them. If you're looking for something lovely, soothing, and heartwarming to watch, you can check out Maiko-san chi no makanai san on NHK's official website.
Maiko-san chi no makanai san on Wikipedia
Maiko-san chi no makanai san on IMDB
---
Demon Slayer: Kimetsu no Yaiba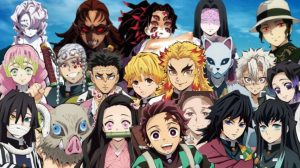 I feel like including this one is a no-brainer. Demon Slayer: Kimetsu no Yaiba is an incredibly popular franchise now, spanning from a manga to anime to movies to a stage show. It's even on Netflix in English now, that's how widespread its popularity is. It's the story of Tanjiro and his sister Nezuko, who lose their family after a vicious demon attack. Tanjiro becomes part of the Demon Slayer corps, determined to avenge his family.
Taking place in an alternate-reality Taisho-era Japan, this series has plenty of action, drama, and heart. There are many traditional kimono and kimono-inspired outfits on almost all the main characters, making this a great watch for anyone interested in that. You can find Demon Slayer currently on Netflix!
Demon Slayer: Kimetsu no Yaiba on Wikipedia
Demon Slayer: Kimetsu no Yaiba on IMDB
---
Intrigue in the Bakumatsu: Irohanihoheto
The next alternate history/fantasy series takes place at the very end of the Tokugawa Shogunate. We follow the story of supernatural-hunting mercenary Yojiro, who joins up with a theatre troupe bent on revenge. The premise sounds quite silly when written out like that, but I'm four episodes in and totally hooked.
The kimono factor in this one is way up there, due to the troupe's costumes and the historical placement of the entire series. Unfortunately, this series is aired on a Japanese streaming platform 2007 and isn't currently licensed anywhere so it might be hard to find. Typically I don't condone piracy, but it seems to be the only way to watch this currently.
Intrigue in the Bakumatsu: Irohanihoheto on Wikipedia
Intrigue in the Bakumatsu: Irohanihoheto on IMDB
---
Joran: The Princess of Snow and Blood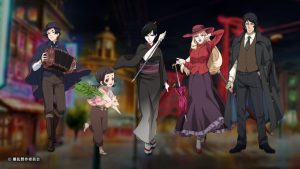 Another new, unfinished series, Joran takes place in an alternate history where the Tokugawa Shogunate never lost power. They've also found a way to extract a form of electricity from people with a mysterious power, so the aesthetic is a fascinating combination of turn-of-the-century Japan and a modern, almost cyberpunk style.
The story follows Sawa, a Changeling woman who can take the form of a white crow. Her entire clan was slaughtered by Janome, a man determined to create artificial changelings. Sawa is a member of the Nue, a government-sanctioned execution squad.
I can't elaborate much more than this, because this series is still currently ongoing and I don't want to spoil anything! But so far this show has a lot of promise, and I'm eagerly anticipating the rest of the episodes. You can follow Joran: The Princess of Snow and Blood now on Crunchyroll. This series has some quite graphic violence, as well as explicit nudity and sex so definitely adults only!
Joran: The Princess of Snow and Blood on Wikipedia
Joran: The Princess of Snow and Blood on IMDB
---