So, 2011 is off with a bang. I started the year with one of the worst bouts of stomach flu I've had in years. I couldn't hold down food, at one point I was delirious with fever to the point where I was hallucinating. That finally dissipated and I was able to relax a bit and have some fun in kimono, which led to the outfit in the previous entry. Unfortunately, I let my guard down too soon. Last Monday we had some guests over and I suppose I got a bit too animated during dinner, because I managed to scratch my cornea with a heavy silver fork. Yes, that truly is as painful as you'd imagine. It's also as hilarious as you'd imagine. You are welcome to laugh. At least I managed to make my eye patch pretty. It has pearls, rhinestones, and sakura on it!
In any case, it seems like the world is against me so far this year, and we're only a week in. I've had several things I've wanted to write about, but I just don't have the energy. My right eye is totally covered, and my left eye has to do all the work. My vision in my left eye is very weak, at best, so it tires very easily. However, I love you guys and rather than just not post anything until this nonsense is over, I thought I would share two movies I really enjoyed both for the content and the gorgeous, luscious kimono in them. These are not going to be in-depth reviews, just suggestions if you're looking for something fun to watch and ogle costumes in.
Sakuran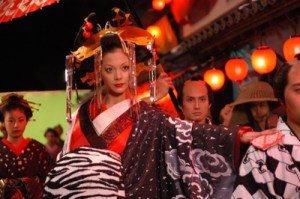 Based on a comic book by Moyoco Anno, this is the story of a young girl who is sold to a pleasure house and works her way through the ranks to become the most popular and most desired oiran (courtesan) in Edo-era Yoshiwara. It is by no means historically accurate – first and foremost it's a drama and romance. Visually, though, it is a stunning, breathtaking movie. It was translated incredibly well from comic framing to live-action, with the addition of vivid, borderline psychedelic colours. The kimono, of course, are to die for. There is a scene where the main character wears a zebra-striped obi that made me weak in the knees when I first saw it.
If you're looking for a lush romp through sumptuous settings, by all means, check Sakuran out. However, please bear in mind that this is after all the story of a high-class prostitute so there are scenes of nudity and sexuality.
Sakuran on IMDB
Sakuran on Wikipedia
Maiko-haaaan!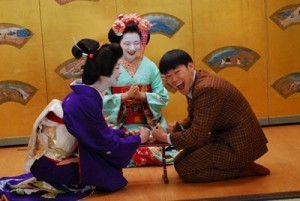 This movie is in a completely different vein. It's a comedy set in modern-day Japan. Onizuka-san is a salaryman stuck in a dead-end job and his dream is to play drinking games with a maiko. When he gets transferred to Kyoto he goes through a rather ridiculous series of events in an effort to make his dream come true. While the slapstick aspects of Japanese comedy wear thin on my nerves at times, the movie does have some more serious and introspective moments that serve to break up the frivolity. And of course, since it takes place primarily in Gion, the geisha district of Kyoto, there are tons of beautiful, fierce kimono.
This movie, while still dealing with some mature themes, is probably a little more appropriate for a wider audience. Onizuka spends a fair bit of time in his undergarments, but that's about the worst that happens.
Maiko-haaaan! on IMDB
Maiko-haaaan! on Wikipedia
Now, generally I do not actively encourage illegal acts, but neither of these movies have been distributed outside of Japan, and even if you were to purchase Japanese DVDs there is no guarantee they would work on your DVD player or computer, due to region codes. Currently, the best way to watch these movies is by downloading torrents off of a site like The Pirate Bay. However, if these are ever officially and legally released in your country of residence, I implore you to support the actors, directors, and of course the costume departments, by buying a legitimate copy.