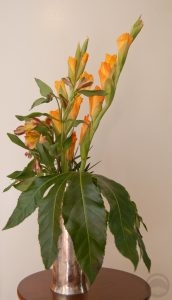 The weather here is finally getting cooler, to the point where I've actually felt straight-up chilly the past few nights. It's wonderful! It's a sure sign that summer is on the way out.
I don't like summer but I know lots of people do so I wanted to do something to give my least-favourite season a proper send-off before we say hello to Autumn (the best season). My mother brought home an enormous bouquet of mixed flowers the other day after she was out running errands, and I was able to make three separate compositions with it. This is the first one.
The colours of these bold gladiolas and smaller flowers are the perfect bridge between a mid-summer sunset and warm fall foliage. The whole thing feels almost tropical but still very familiar. The green leaf was actually a fantastic slice of serendipity, and you'll find out why later this week in an upcoming entry.
I'm not sure how I feel about the overall shape and composition of this one; I'd realised nearly everything I do is the composed, structural moribana style, and wanted to try a more relaxed nageire arrangement but to me it feels less like ikebana and more like a random western-style bouquet to me. I'll have to keep trying!