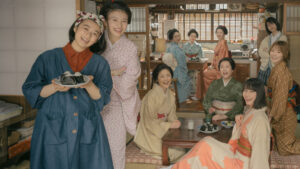 I have already made a post about Maiko-san chi no Makanai-san, back when it was released as an anime. I loved the manga and I loved the anime, so I had very high hopes for this live-action adaptation.
I am glad to say I was not disappointed. I binged through this show in two days and I'm already debating watching it again. There's something so incredibly wholesome and comforting about it; the food, the love and support the characters share, and the quiet and understated tone of the whole thing. There is so much tension in the world right now; we need more cozy shows like this!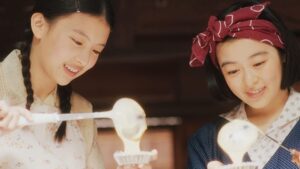 This is ostensibly a story of two girls, Kiyo and Sumire, who move from Aomori to Kyoto to become maiko. Sumire blossoms during training but Kiyo stumbles out of training and into the job of makanai, who is essentially the cook for the house where they live, along with their adoptive geiko mothers and maiko sisters. This is where it's Kiyo's turn to shine, as she pours all her enthusiasm and support of Sumire and her sisters into her food.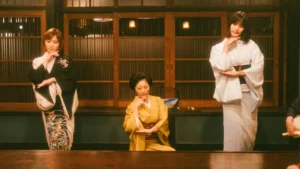 The manga and anime pretty much stopped there, presented in short vignettes followed by recipes or food trivia. Where this show differs is that there's less focus on the food and more focus on the interpersonal relationships and development of all the background characters, something we hadn't seen until now. It never veers into the mawkish or melodramatic tone you might expect of a house full of girls competing in an incredibly tough field. Instead the girls encourage and support each other, and what little tension there is eventually becomes a great source of charming comedy or personal introspection. (Yoshino, I am looking at you)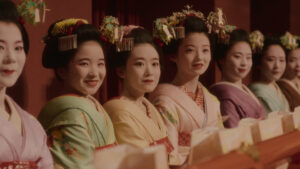 Another lovely thing about this show is how accurate it is. It was filmed partially on-location in the geisha districts of Kyoto, and you can tell they worked very hard to keep things close to the tradition-focused and rarified air that the whole city exudes. There are cameos from real working geiko, there are many mentions of the traditional seasonality of geisha life, the kimono are stunning, and while there will invariably be the occasional slip-up when it comes to minute details or accessories, it's very clear that all of the traditional elements of the show were done with a huge amount of respect and research, and love.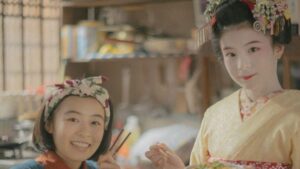 At its core, this is a show about the many forms of love. The passion an artist has for their craft, the connection of family (both genetic and found), and the unbreakable bond between two best friends. Whether you're a fan of food, geisha, or just want something incredibly warm and soothing to watch, I can't recommend this show enough. You can catch it on Netflix in the original Japanese with subtitles as well as dubbed into a multitude of languages. If you have Netflix and have any interest in geisha, food, Japanese culture, or just love warm uplifting television, I urge you to check it out!