The Kitsune is quite possibly the most well-known Yokai. Not only are foxes representative of tricksters in so many cultures and traditions around the world, the kitsune figure appears in so much Japanese media that nearly everyone has, at the very least, a passing familiarity with them.
Kitsune are neither inherently good nor evil – there are so many stories and so many variations. There are helpful ones, vengeful ones, playful ones, and ones who punish the wicked, to name a few. I didn't have one particular variant in mind when I decided to feature this particular yokai, because it's impossible to choose. I'd like to think she's more friendly and playful than outright malicious though.
Since kitsune are so varied, I knew I had a lot of creative liberty for this particular outfit. I decided to go with the first kimono and obi I ever purchased, because this particular kimono feels so quintessentially Japanese to me. The bright red colour and iconic white chrysanthemums pop, and the kitsune mask I painted plays off them so well. The finishing touches were a lovely furry tail and ears. Initially I wanted to put the tail at the hem of the kimono but it's not very large and got a little bit lost, so I put it below the obi instead, and think it looks very cute there.
And just because I'm really proud of how it turned out, especially considering I freehand painted the whole thing, here's a close-up of the mask.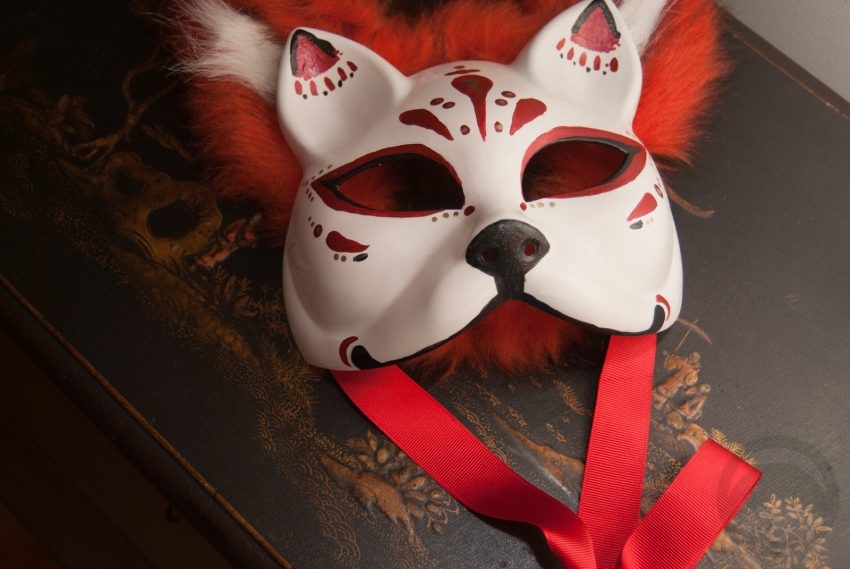 Items used in this coordination