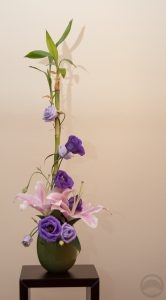 Last Thursday, my cousin sent me a beautiful bouquet of flowers for my birthday. I enjoyed them as-is for a week, but like all flowers, they eventually started looking a little limp. Some of them, however, were still great and fresh so I thought I would try to give them a bit of a second life, since I'm not quite ready to part with them yet.
There were some freshly opened lilies and beautiful lisianthus in shades of purple that were still looking quite lovely. I used the same lucky bamboo from the really architectural-style arrangement I made a few months back to add structure to the soft-stemmed lisianthus and anchored the whole arrangement with the pale pink lilies. I chose a green vessel so it would kind of fade into the background.
Overall I really like how this one turned out, but I've come to realise that I am definitely falling into a rut. I've been doing an awfully large amount of sparse upright arrangements featuring purple flower of some sort or another. I need to start diversifying, working on more modern shapes, and more low wide natural-feeling ones. Unfortunately now that winter's nipping at our heels I don't have as much access to interesting flowers. However, I know I will be splurging a couple of times and doing something for Christmas and something for New Year's, at the very least.