Most folks who collect and love kimono already know the merits of a good han-eri, or decorative under-collar. Not only do they protect the collar of your juban from dirt, sweat, and makeup, they're a fantastic way to add a bit more detail and individuality to most outfits. While very formal outfits such as a full mofuku ensemble or a kurotomesode ensemble require plain white han-eri, more youthful or casual coordinations can have all manner of fun ones. Typically, they're silk or polyester
One thing you may not be aware of, though, is that tenugui (traditional Japanese cotton towels) can make excellent han-eri that are bold, fun, breathable, and washable! Today I'm working Nugoo Japan to show you how well some of their all-over motif cotton tenugui work with traditional kimono ensembles.
They were kind enough to send me three different examples, I let them choose ones that would be a good representation of their products and they're all really gorgeous and work so well!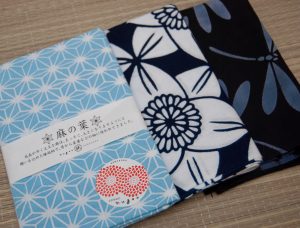 They sent me three different motifs that work perfectly for this particular usage, since the patterns are bold and evenly distributed across the whole tenugui. First, the small blue asanoha. Asanoha, or hemp leaf, is one of my favourite geometric designs, and this one will definitely be getting a ton of use. The next one they sent was a beautiful traditional indigo suisen or narcissus. This one is big and bold and adds a ton of drama to a casual outfit. Sadly, the particular tonbo motif they sent me has been discontinued, but there are some lovely alternatives. I can't wait to pair this one with my tonbo summer kimono.
First, we have a plain white collar; not only is it boring, it's a little discoloured with age and use. Not stylish at all! Then we have the tenugui carefully folded over the juban collar, and you can see how much more fun and distinctive the coordinations become with this one small change!
The only warning or caveat I have is that these are hand-dyed using traditional dyes, and when you first get them they may not be entirely colourfast. The indigo suisen one stained my nails slightly as I was arranging it, so I imagine after a long hot day of wear the pigment could absolutely transfer onto your kimono or juban. If you plan to use one of Nugoo Japan's beautiful indigo tenugui (or any naturally dyed fabric) as han-eri, I would absolutely suggest washing them a few times first!
Please check out Nugoo Japan on their website, facebook, and instagram. Along with traditional tenugui they also have lots of lovely items and home goods made from them, such as coin purses and bento products.
 I received this item from the retailer or manufacturer for honest review purposes.If you have a topically appropriate craft, product, or service you would like me to review, please contact me.