Gofuku no Hi is a bit of a play on words – May 29 is written as Go-Fu-Ku (5-2-9), and "gofuku" is also a word for traditional clothing. So it's become an international day to encourage everyone to wear kimono!
As I've often mentioned, I'm currently too big to wear almost any of my kimono comfortably. I would have put on one of my modern plus-sized poly komon, but good lord is it too hot to deal with all that today. Thankfully I came across this video by stylist Sala Okabe on Facebook (who you should totally be following if you're not already!) showing how to easily wear a kimono as a dress without any alteration or damage. It's actually quite similar to how I styled Lynn in the mod michiyuki at the Otakuthon Fashion Show last summer.
I decided to use my beloved bright-red kiku houmongi, which also happens to be the first kimono I ever purchased. I recently cut all the blue out of my hair, which gives me a lot more leeway colour-wise. To suit the style and era of the kimono I went with a sort of kitschy-retro vibe, pairing some vintage-inspired shoes, my beloved pearls, and this ridiculously adorable purse that looks like a camera.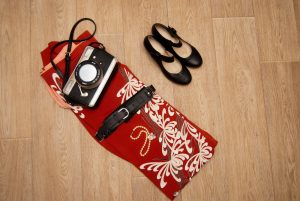 My intial plan was to go to the park near my house, but I ended up nixing that because it's just way too hot to be out in the sun, so you guys get to enjoy my living room yet again.
Overall I think this was a very successful experiment! I love how the kimono-as-dress looks, and it's definitely super comfortable. Next time I'll try it with a slightly bigger one to prevent the slit up the front, but since I am wearing a little tunic underneath it's not a huge issue.
Did you dress for Gofuku no Hi? If you did, please share photos, I'd love to see!