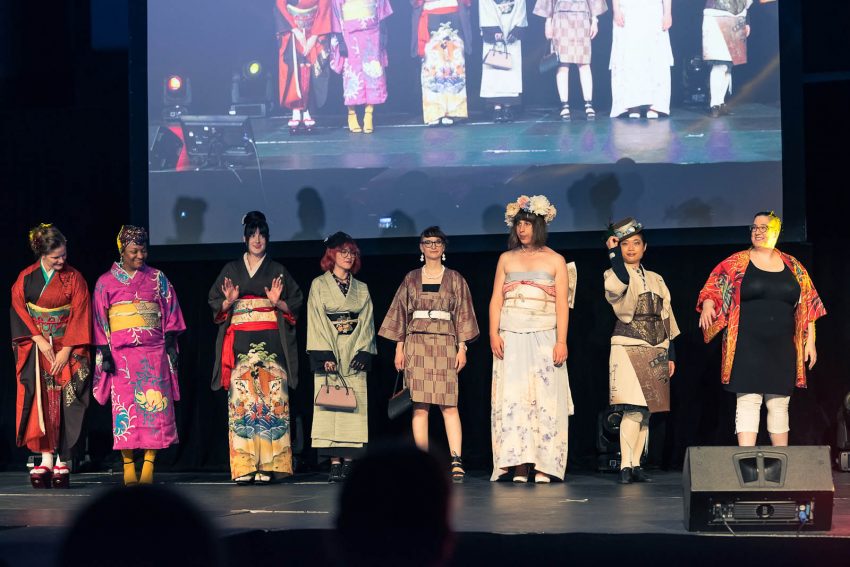 Photos courtesy of Buddy Photography
Last weekend I had the amazing privilege of styling the kimono segment in the Harajuku Fashion Show at Otakuthon, a local anime and Japanese culture convention. The main focus on the show was modern and funky Japanese street styles, so I wanted to make sure a variety of modern fashions using kimono were featured.
By the end of it, I was a hideously sweaty exhausted mess but man, seeing all these beautiful ladies together was incredibly rewarding! The models all did such an incredible job, and I love how cohesive the outfits all look together! For some fantastic individual shots by Buddy Photography and Phunkey, as well as details about each outfit, please read on.
Peggy – Steampunk Style
Photos courtesy of Buddy Photography
This is basically just an update of the Steampunk Adventuress coordinate. With an actual model I was able to amp up the accessories, which included some lacy beige crochet socks held up by blue ribbons with keys attached, a bow at the neck using the same blue ribbon and more keys and locks, and a fantastic brown top hat decorated with blue tsumami kanzashi, modern steampunk kanzashi made of clock parts, some funky goggles that I painted with blue holographic paint, and a blue obiage used as a hat band/ribbon. I think this outfit turned out fantastic!
Lynn – Mod Michiyuki Dress
Photos courtesy of Buddy Photography
Lynn's wearing a mod dress fashioned out of a vintage michiyuki. This is a great way to make traditional garments feel more modern and versatile. All I did was put in a big ohashori-like fold at the waist and then belt it with a wide elastic belt. Some white acrylic jewellery and a little vintage kimono purse added a bit of flair to the whole look, but best of all were Lynn's own incredible shoes, these geta-inspired sandals by German brand Trippen.
Vivian – Bridal Furisode Look
Photos courtesy of Buddy Photography
You guys know I love doing the whole furisode-as-dress thing, and I'd been wanting to do it with this particular furi ever since I bought it. I kept the accessories and styling relatively classic with this look, but made a coordinating flower crown in the same shades of white, pink, and blue for some balance. Vivian was hesitant to model at first but she did an amazing job and got a great reaction from the audience!
Nim – Formal Taisho Classic
Photos courtesy of Buddy Photography
Here we come to one of the more traditional outfits. Nim's delicate features and elegant poise were perfect for this classic Taisho-inspired outfit. I cheated here and used an old maru obi that had been converted to a tsuke-obi, and the kimono is a bit short for her, but it's nothing a shigoki obi couldn't fix. I'm still swooning over all the pops of red in this combination.
Emery – Vintage-inspired classic beauty
Photos courtesy of Buddy Photography
I was definitely inspired by the fantastic ruffled juban from Homsue.Hem for this outfit. I found the perfect black knife-pleated chiffon trim online and sewed it to a vintage juban's hem and sleeves. To balance out the black trim I went with a mint-green iromuji, black obi, and coordinating pastel accessories. It's hard to see in this photo but there's even a lilac tsumami flower on the little pillbox hat she's wearing.
Naria – Furisode Chic
Photos courtesy of Buddy Photography
Naria wore her own kimono but I styled it with some accessories and obi of mine. The parasol and okobo were all hers too! If you remember my experiment with this green tsuke-obi from a few weeks ago, you'll see what I was trying to accomplish here. The green pops so nicely against this beautiful furisode, and I'm really happy I used the green and gold date-eri to pull it all together.
Tanya – Bold & Beautiful Taisho
Photos courtesy of Buddy Photography
Tanya styled her own outfit and dressed herself, and looked absolutely stunning. I love the funky vintage feel of everything she chose, and those fabulous yellow socks that matched her obi so perfectly! Even her head wrap coordinated perfectly. I was honoured to have her in the kimono group!
---
Overall the experience was overwhelming but so so so worth it. It makes me want to do more fashion shows, but maybe on a smaller scale in the future. This was a little exhausting, if I'm being honest. Dressing six people (including have to dress poor Naria a second time, right before we went onstage, because her ohashori had started to slip) in two hours is just too much for me. All that being said, if they ask me to participate again next year I'd probably say yes!
And just for fun, I'll leave you with a few cute backstage photos!
Photos courtesy of Phunkey
Were you at Otakuthon here in Montreal? Did you check out the fashion show? If so, I'd love to hear what you thought!