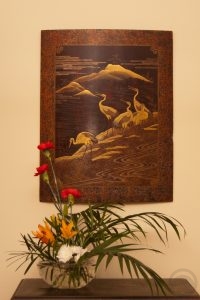 I guess all that complaining about how summer was sticking around actually accomplished something, because it's wonderfully crisp and cool out now. It seemed like a good time to share this last of the triad I created from that one big bundle of flowers my mum brought home a while back.
The lilies and the greenery forming the horizontal grounding of the arrangement harken back to the end of summer, while the carnations and chrysanthemums scream autumn to me. Unfortunately the piece does end up feeling a little cluttered, in retrospect, and I might have been better off just foregoing the orange lilies entirely. Oh well, you live and you learn, right?
I'd also like to take a moment to thank any regular readers for their patience. My schedule at work and life in general have been a little out of whack for the past few weeks and I've found it hard to devote time to blogging. But things are back to normal now, so I should be back to two entries a week or so.