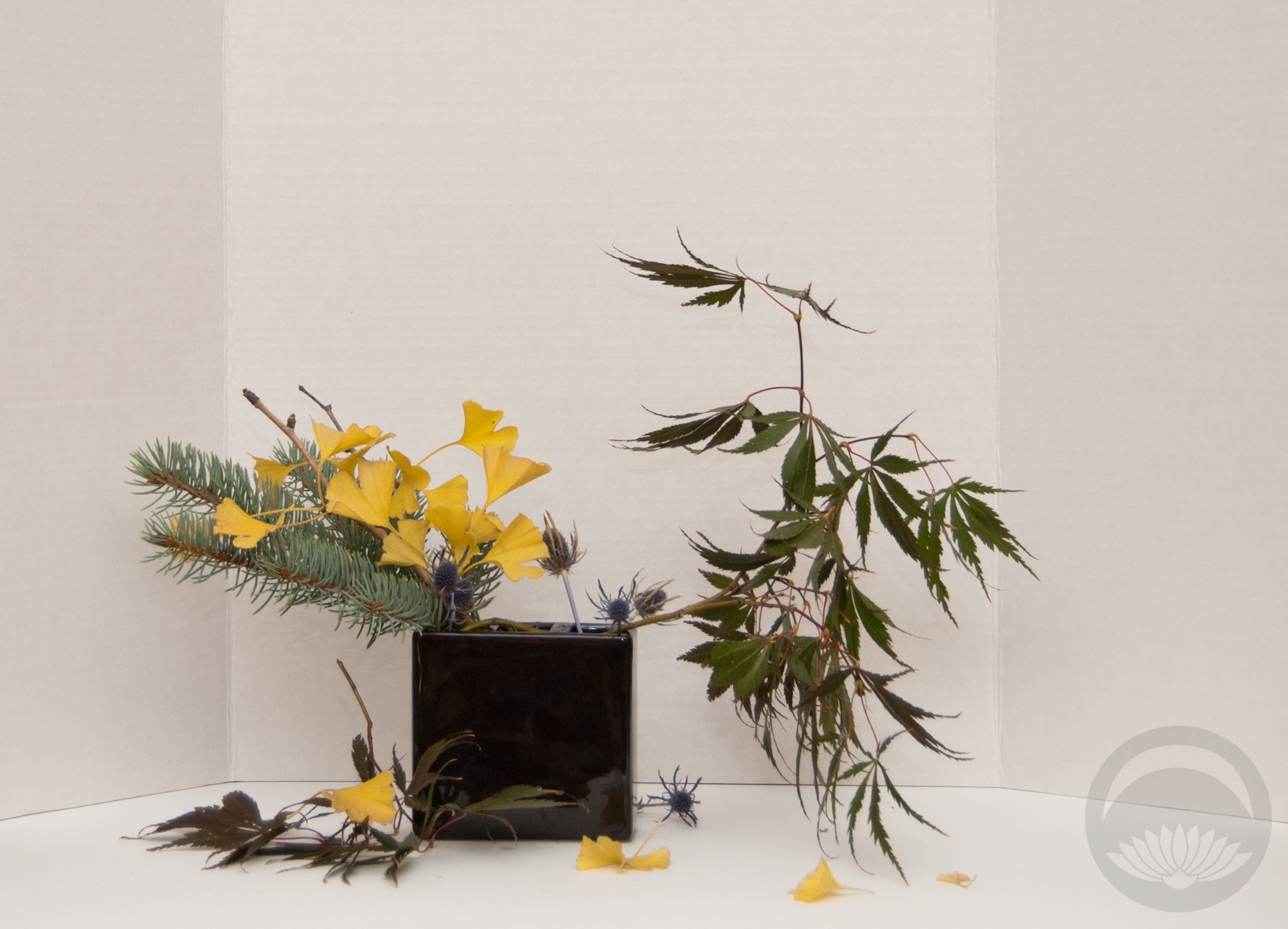 Fukiyose (吹き寄せ) is an autumn motif comprised of wind-blown foliage, pine needles, and other vegetal vestiges. From the very beginning of my ikebana journey, I've known I wanted to attempt an arrangement based on fukiyose. Unfortunately, Japanese maples are exclusively a prized and well-guarded ornamental plant here, so it's not as though I had easy access to one, and it felt vital to the composition.
However, my aunt now has one in her garden and was kind enough to allow me to liberate a small branch. Once I had that in hand, getting the other bits was much easier. The neighbourhood where I live has planted ornamental ginkgo trees in a lot of public areas, and I've been assured in the past that so long as I'm careful and respectful of the plants I'm welcome to harvest a branch or two. So I grabbed a couple of those on the way home, and then used some of the pine boughs from a tree in our yard.
I have to admit, arranging branches in a way that looks natural but still intentional and aesthetically pleasing is more difficult than I'd anticipated! It's hard finding that perfect space between "unruly and messy" and "overly forced", and I'm honestly not sure I accomplished it as well as I'd like. But I'd been dying to do this arrangement for so long, and didn't have easy access to different maple branches, that I wasn't going to give up. A few leaves fell while I was arranging them but I think it adds to the wind-blown feel so I left them there, and it helped with the balance. There's a good circular fluid motion to the whole composition, so it feels finished and cohesive to me, at the very least.
This may not be my favourite ikebana ever but I persevered and got it done, and I am proud of that. I do know that lately I haven't been posting as many ikebana arrangements as I used to, but unfortunately my access to blooms from the great outdoors is over for the season, and I'm in a situation where my budget for things like fresh-cut flowers is basically zero for now. But there will be more whenever I can splurge a little!