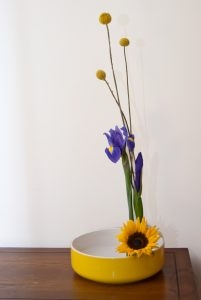 Typically, ikebana should reflect the seasons and the natural world around you. I'd been meaning to make an arrangement inspired by falling leaves, but haven't sourced nice enough foliage. It's also been very cold and dreary here lately, the sun is setting by half past four in in the afternoon, and we had our first snow of the year today, which isn't exactly inspiring to me. I still want to attempt an ikebana with fall foliage, but I just wasn't feeling it today.
So when I found this bright, happy sunflower at the florist's I decided to bring a little sunlight into my day. Vibrant purple irises and these little yellow pom-pom like craspedia blossoms balanced both shape and colour of the sunflower, and combined to form a nice tall standing arrangement. This shallow, bright yellow vessel seemed like the perfect container. It's actually a serving bowl, but it worked out so well.
It may be entirely inappropriate for the season, but it makes me smile, and we all need a little more of that in our lives lately, don't we?