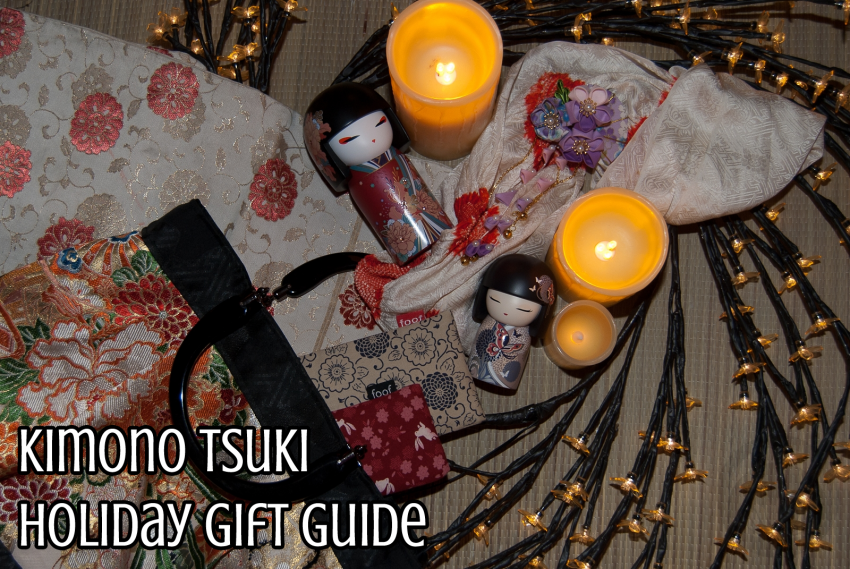 If you know and love someone who collects kimono, you know how difficult shopping for them can be. I've created this holiday gift guide as an attempt to help you all out. Hopefully it will offer information on some reliable sellers and suggest some slightly out-of-the-box ideas that will be of interest to kimono collectors without breaking the bank. I have been working on it for quite some time now, and I hope you find it helpful! This post is quite long, so please click through to read the whole thing.
Kimono Vendors
Typically, unless you know their measurements and tastes very well, I wouldn't suggest buying a kimono as a surprise gift. If someone links you to a specific item and says "I want this!" then you're golden, but choosing one without any suggestions or assistance can be utterly overwhelming. There are so many measurements to worry about, eras and styles, motifs and formality levels, textiles and techniques, that it can be overwhelming and nearly impossible to find the "perfect" one. However, these shops below all offer consistently excellent service and quality, and would be more than happy to help you out. If you do really want to buy a garment for your loved one, an obi or accessories such as obiage and obijime are always a safer bet than a kimono. Here are a selection of vendors that are very user-friendly, English-speaking and easy to purchase from. Ordering from Japanese sellers sometimes requires a proxy service, which can be quite daunting for a single gift purchase, so I've stuck to sellers who deal regularly with North American and European buyers.
Ichiroya – Ichiroya has been one of my favourite sellers since I started collecting, and while their team and business have grown exponentially since then, the quality of their service and merchandise has never wavered. You can read an in-depth review of my dealings with them in this post. If you've got your heart set on buying a kimono or an obi for a loved one but aren't sure where to start or what to look for, the folks at Ichiroya will never steer you wrong.
Japanese Antiques (ebay) – This is another seller I've purchased from many many times over the years. They've always got a wide selection of accessories and interesting pieces, and are incredibly thorough about labelling condition issues and flaws, so you can feel confident purchasing from them. NB: This is an eBay shop only, so you will need an eBay account to purchase from them. However, they list a large percentage of their items as Buy It Now, so you don't have to worry about getting into a bidding war if you find something you know will make a great gift.
Ohio Kimono – I have known Kerry, the driving force behind Ohio Kimono, for a very long time now. Watching her business evolve from a small local vendor to a well-established online shop as well as a steady presence at many conventions across the US has been a testament to her work ethic and passion. Ohio Kimono has a wide selection of kimono and accessories.
SOU – This seller has both an online store and an ebay account. Personally, I actually find their ebay account easier to navigate and browse. They stock lots of gorgeous vintage and antique pieces, and are constantly adding new stock almost daily. However, they list so many items at once that occasionally things end up mislabelled or flaws might not be as clearly marked as they should. If you've got the time to sift through the listings it can be a great place to find hidden gems, but if you're unfamiliar with kimono and buying as a gift, it wouldn't be my first suggestion. I've included it because of the wide variety of items (they also stock lots of homewares and tea ceremony items, if the person you're shopping for is into that).
Book Suggestions
Books are always a good bet. Despite being a fairly niche interest, kimono books are becoming more frequently available in large chain bookstores, and are always only a click away on Amazon. Rather than bog down this list with a huge pile of book titles, you can browse my Book Reviews category. Any book there would be a welcome addition to a kimono collector's library!
Unique Items and Accessories
The shops below all offer beautiful handcrafted items, using traditional Japanese textiles or materials. These are a great way to give someone you love a unique gift that will fit in with their kimono interests as well as stand out from the crowd. And no worries about fit or fabric preferences!
Foof Phone and Tablet Sleeves – These are awesome fluffy sleeves for mobile phones, tablets, and other electronic devices. They're delightfully soft and protective, and made with beautiful kimono fabrics. I've been using mine since they were kind enough to send me a bunch, and it's still holding up fantastically.
Sachi & Co – You may remember my review of the absolutely stunning purse from Sachi & Co. It still lives up to the praise I showered on it back then. I try not to use it as an everyday purse, but it's my currently favourite bag for evening and fancy events.
KimonoPoncho – I have not yet had the fortune to purchase one of Yukiko's gorgeous kimono ponchos, but I have friends who have, and have only ever heard glowing reviews of her work. These are a great gift idea for a collector, since they can be worn over kimono or to add a bit of wa flair to a western outfit. They're very versatile!
Moniko bags – Sadly I do not own a Moniko bag yet but I will get one eventually. They make absolutely gorgeous clutch purses and evening bags using obi fabric. The style is very sleek and modern, and will definitely appeal to someone who likes a streamlined aesthetic. These gorgeous bags would look equally stylish with kimono and a little black cocktail dress. The creative forces behind Moniko have also been kind enough to offer a discount code to my readers – Click the link or enter code KIMONOTSUKI during checkout to save 15% from now through the end of November! The code won't work beyond then though, so if you want to grab one of these you've got to act quickly.
SOU·SOU – Not to be confused with the kimono seller above! Sou·Sou makes really fun and creative clothing that blurs the line between kimono and casual western wear. From cardigans inspired by haori to loose muslin bottoms reminiscent of mompe (traditional work pants) to awesome tabi-style boots with a rubber sole, everything here is a great way to bring a bit of wa to a loved one's wardrobe. They also have lots of fun tenugui which can be used as decorative collars or padding while wearing kimono.
Kanzashi
Kanzashi, decorative hair ornaments made using traditional folded-fabric techniques, are a great gift idea, because they're pretty much one-size-fits-all and they can be worn with western-style clothes just as much as with kimono and are a great way of showing off some kimono love in a subtle way. If the person you're shopping for has short hair, most of these sellers offer hairbands, or they can easily be converted into a brooch or something equally versatile.
Modern Sakura Kanzashi – Modern Sakura is a newcomer on the scene, but their work is lovely and their site is well-organised and easy to use. There's a broad variety of pre-made styles to choose from, with more being added regularly. You can read my more detailed review of their work here.
Momo Kanzashi – I admit I have not purchased anything from this shop yet, so I cannot vouch for quality or craftsmanship, but their stuff is absolutely beautiful. If anyone is looking for hints, I'm lusting after the water lily, amongst a few others.
Wisteria Gardens – Kinga has been making kanzashi for quite a long time, and her work has a timeless, traditional feel to it. If you're looking for something a little more mature and elegant, I highly recommend this shop.
For the DIY-lover
For those who love kimono and also love to work with their hands, there are plenty of interesting options out there. I've selected a few straightforward ones for a variety of interests and skill levels.
KimonoMomo Sashiko Kits – If the person you're shopping for also enjoys creating their own beautiful things, one of the pre-assembled sashiko kits from KimonoMomo would probably be very appreciated. They contain all you'd needed to get into sashiko, a traditional Japanese embroidery technique. From fabric to thread to needles, everything is in one handy box. By the end of it, they'll have a new skill, further appreciation for Japanese textiles, and a beautiful finished work of art to proudly show off.
Needlepoint Kimono Canvas Kits – These are very popular in needlepoint circles, and are available in a wide range of designs and price-points from many different vendors. I am quite fond of the selections on Fireside Stitchery and there's plenty available on eBay as well, if you have an account.
YokoDana Bulk Kimono – If they're already into quilting, sewing, and DIY, a really fun and unique gift would be a selection of fabric from YokoDana. They don't sell individual kimono, but rather large boxes by weight. You can choose between whole kimono (usually a selection of both very wearable and scrap items) or boxes of pre-cut pieces. This is a great way to get fabric at a bargain and would be a great gift for someone who loves Japanese fabrics and designs but also loves to make their own beautiful creations from the ground up.
Other Fun Ideas
If you want to get something a bit different that you know they'll still appreciate, there are lots of fun little gifts you can get. Some of these would make excellent stocking-stuffers.
Kimmidolls – I make no bones about how much I love these little dolls. I have quite the collection already, and am always on the lookout for more. They're inspired by traditional Japanese kokeshi dolls but have a modern art toy vibe to them. They're available in a wide variety of sizes and prices, from a few dollars for a keychain-sized one to the $50 range for limited edition collector ones. They can be found many places online, but eBay and Amazon tend to be the most reliable in North America. If you're in Europe or Asia, they're much easier to find.
Mino Ware pottery – Tokyo Otaku Mode typically sells more anime and game-related merchandise, but they do have a wide selection of lovely handmade dishes, bowls, and teacups in a wide variety of traditional Japanese motifs and designs. I have several pieces, including the Sakura teacup and blue hydrangea bowl, and they're lovely. Very delicately decorated but comforting and solid to hold.
Neko Box – This is a Japan-themed and Japan-based subscription box. Every month there's a new theme, and the box is filled with beautiful and unique little goodies, ranging from ceramics to home-wares to gifts and beyond. You can gift a single box, or go all-out and get a subscription, so your loved one gets a fun surprise every single month!\
Ukiyo-e Heroes – An epic meeting of traditional Japanese woodblock prints and pop culture. Artist Jed Henry and printmaker Dave Bull have combined their skillsets to make a series of really fun and funky woodblock prints that upon first glance look like they could have been made hundreds of years ago, but on closer inspection illustrate moments out of movies, video games, and comics that modern geeks know and love. These would be great for a kimono fan like myself, who is also a giant nerd. I'm also incredibly fond of the Sushi Cats.
Oof, this post got a lot longer and more involved than I'd expected it to. I'm sorry it's so long, but I do hope it's given you at least one or two good ideas for gifts for the kimono-lover in your life. Happy Holidays!