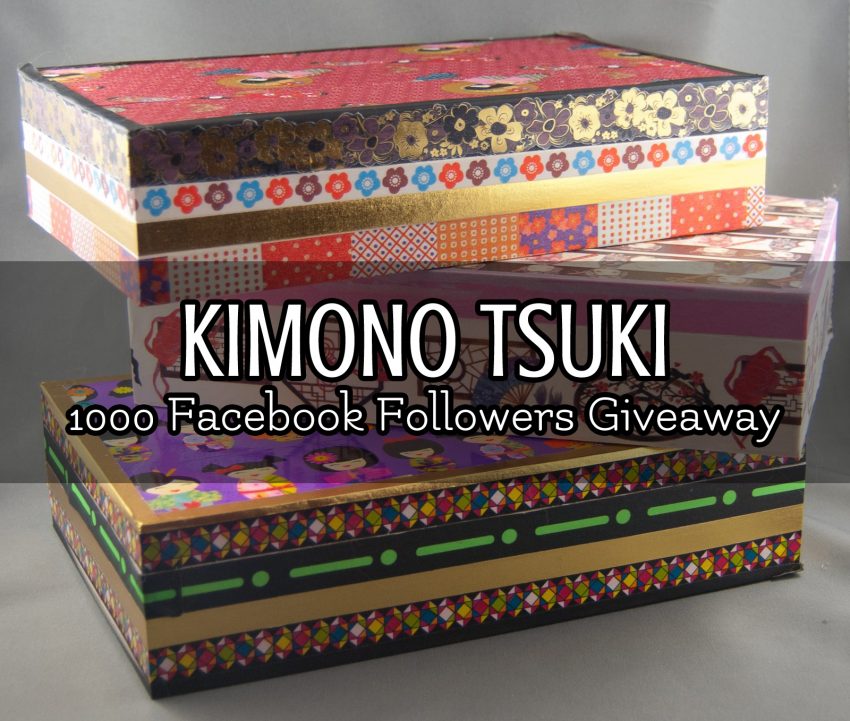 I've been working on this for quite some time now, and it's finally ready! I knew I wanted to do something special to celebrate reaching one thousand fans on the Kimono Tsuki facebook page. I actually started assembling things way back last spring, but I had to wait to actually hit the milestone and then make sure I had everything I wanted in each kit.
Each package is arranged by theme – if you like things bright and vibrant then Bold is for you, if you've got an appreciation for all things cute and pastel you'll love Sweet, and if your style is elegant simplicity the Classic is calling your name. The prize packages are essentially the same, featuring a wooden box hand-decorated with Japanese tape and a clothespin kokeshi doll both by yours truly; a maneki neko charm, a sweet little pen with a maiko on it; a padded device sleeve courtesy of FoofShop; a gorgeous obidome/brooch handmade with love by Naomi no Kimono Asobi which aren't yet available for sale anywhere; and a lovely custom tsumami kanzashi piece by Tiaras 'n Teakettles which are some of the last pieces she ever made before she stopped making them. I'd like to give huge thanks to everyone who donated things to help make these packages awesome for you guys.
To participate, please head over to the Facebook post, and be sure to follow the instructions there. The contest will run from today until January 23, so you've got two weeks to participate. Good luck to everyone!