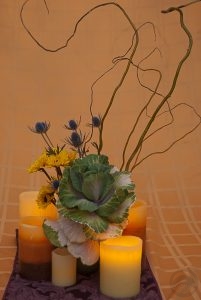 Here in Canada, Thanksgiving falls on the first Monday of October. In my house, we'll often invite over a group of friends who don't have big loud extended families to celebrate with. We go all-in, turkey and stuffing and homemade pumpkin pie. The works.
This year I decided to use what I've been learning about ikebana to create a centrepiece for the table, as a way to celebrate Thanksgiving and a way to look back on the recent harvest moon. I wanted to stick to the traditional shin/soe/hikae form in a straightforward moribana-style arrangement, and I wanted something that felt warm, welcoming, and harvest-friendly. The first things I found at the florist's were some purple thistle flowers and small yellow blossoms that screamed autumn to me. The curly branches came next, adding height and structure to the arrangement, but it still felt lacking. I stepped into the back cold storage where they keep the fillers and unusual items and the ornamental cabbage called out to me. It's got a great weight to it, totally fits the feel of autumn/harvest, and it even has delicate purple veining that helps echo the spiky thistle blossoms. I tucked the whole thing into a small green vase that nearly disappears under the cabbage, which worked out really well. It's almost as if I've plucked the whole arrangement straight out of the garden. Some warm yellow and orange candles tied the whole thing together, infusing it with even more warmth and welcome feeling.
I have a lot to be thankful for in my life. I am surrounded by family and friends who love me. I have a job I enjoy, and hobbies I love to fulfil me. My health could be better, but it could also certainly be much worse, and I am lucky to live in a place where I don't have to worry about medical emergencies bankrupting me. Sometimes there are days when I feel like everything is terrible, and I would do well to remind myself how few and far between those days are. The world feels like it's falling apart sometimes, we've all got to take a moment to focus on the good things, wherever they come from. What are you thankful for this season? Please let me know!