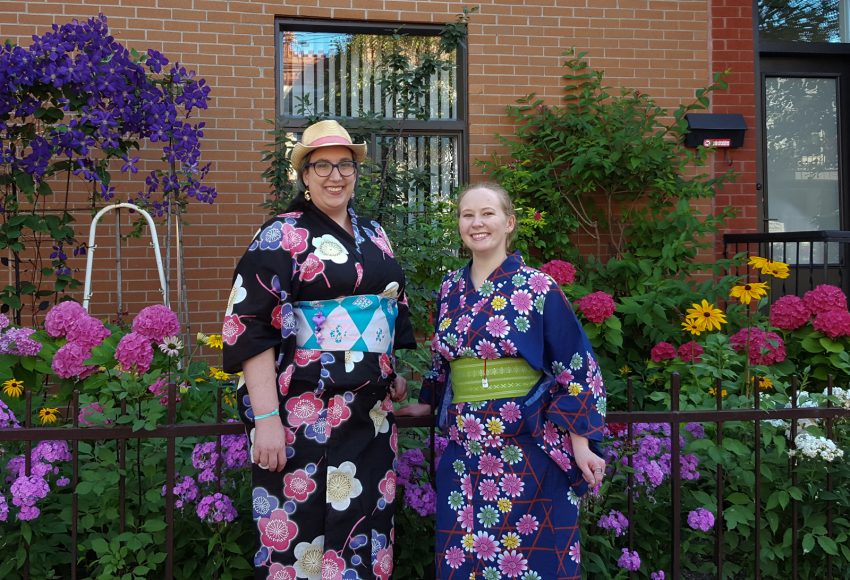 What's this? Another outing for yours truly?! It feels good getting back into the swing of things.
This weekend a friend was in town, and the first Yatai MTL! street food festival was happening, so we decided to go in yukata. Since she was visiting from a ways away, I lent her one of my yukata and obi, and I'm glad to see it getting some use.
One of the awesome things about Montreal is the sheer number of awesome events and festivals that happen during this summer. This year is no exception, because the city is celebrating her 375th birthday. This weekend alone, aside from the festival we went to, had the Formula E electric car races, Just For Laughs!, the International Fireworks competition, and quite possibly other small ones I'm not even aware of. Because of all this, all the public transit in the city was free. However, because of this, the public transit in the city was also the busiest I've ever seen it. We were delayed getting out, and the metro was a horrible swamp of humanity. However, we made it to our first stop without too much drama. We began the afternoon by fortifying ourselves with lovely microbrew beers from Dieu Du Ciel, an awesome local brewery. My friend's brother came with us and was kind enough to act as photographer for the day.
Thus fortified, we headed to the festival on foot. It was a gorgeous day, and yukata were perfectly comfortable and breezy. The walk to the park where the festival was being held was short, and we got there uneventfully. That's when things went sideways. This was the festival's first year, and they were clearly massively unprepared for the volume of people attending. We got there less than an hour after opening, and the lineups for food were over two hours long, and they had already run out of several dishes. We worked in shifts, taking turns in the line, and eventually got our okonomiyaki, which was the only dish available at the kiosk we got to. It was absolutely delicious, I will give them that! I also found a vegan mocha popsicle, which warmed my shrivelled little dairy-intolerant heart. However, considering how long we'd been waiting it wasn't nearly enough food, and none of us were willing to wait another two hours we decided to find a restaurant to fill us up.
After another quick jaunt on uncomfortably crowded public transit we found our way to Kurobuta Izekaya & Ramen-Ya, an awesome homey Japanese pub-style eatery. I got two of my standby favourites, agedashi tofu and takoyaki, and they were both delicious. My dinner companions both got ramen, and I tried a bit, it was delicious too. If you're looking for a comfortable, entirely unpretentious Japanese eatery in the Mount Royal area of Montreal, I highly recommend a stop here.
The day may have been waaaaay longer than we'd anticipated, and there was an awful lot of frustrated, cramped, waiting around but in the end good food with good company in adorable outfits made it all worthwhile!
Items used in this coordination