Welcome to a new feature here on Kimono Tsuki! While I have shared shopping tips and tricks before, I often receive questions asking if a particular vendor online is a reliable source and I thought it would be beneficial to shine a spotlight on some of the excellent vendors and dealers out there.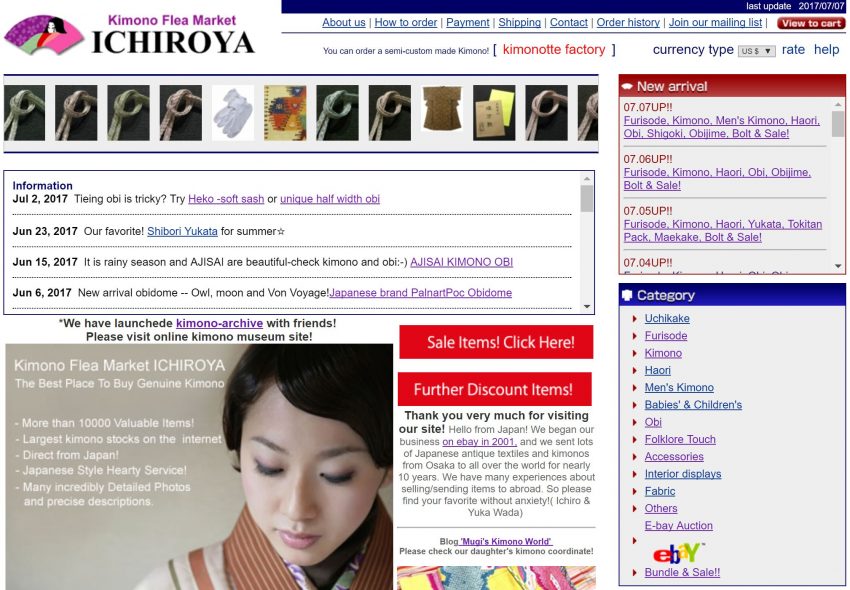 For the first installment of this feature, who better to feature than Ichiroya. Run by a lovely couple named Ichiro and Yuka Wada, Ichiroya has been bringing vintage kimono to the public since 2001. They were one of the first stores to make purchasing kimono simple for people outside of Japan. Their team has grown slightly over the years, but they remain a small, friendly, and very knowledgeable company. Their selection is updated almost every day and they stock everything from Taisho-era vintage formal pieces to modern and inexpensive yukata.
The site is quite well laid-out and easy to navigate, especially if you're used to large Japanese shopping portals like  Rakuten, which can get a little overwhelming. There's a huge variety in stock, from vintage to modern and from inexpensive yukata to major investment pieces. A little something for everyone, from the beginner to the seasoned collector! The listings are always incredibly detailed, with a full list of flaws, age spots, etc. A few times I've purchased things and been unable to find the "flaws" that were pointed out on the listings. It just goes to show you how thorough they are.
One of the ways Ichiroya stands out is the customer service. Everyone who works there is not only incredibly helpful and knowledgeable, but they're also very kind. If you're a beginner, or looking for a gift and don't know where to start, they will gladly communicate with you before you make a purchase. They include lovely little gifts with every purchase. Usually something small like a fabric sample or a little postcard, but it's a lovely gesture. They've also taken the time to answer questions I've had about kimono I didn't even buy there! Now that's amazing customer service.
Ichiroya also has an offshot project, Kimonotte Factory, where they can make kimono with modern size, comfort, and convenience using custom-printed fabric with vintage designs. This is especially awesome for folks who love the bold look of Taisho Roman or early Showa fashions but need a bigger size, or are worried about ruining delicate vintage fabrics. There are a few pieces I would absolutely love to have here (this lavender rose komon and this beautiful floral obi come to mind), but they are not in my budget for the time being. One day, though!
Mugi, the owners' daughter, also runs a lovely Tumblr account called Mugi's Kimono World where she shares lots of fun and funky coordinated outfits, so if you're looking for inspiration after having made a purchase, do check that out too!
Quality and Selection
Ichiroya has an enormous selection of products, and add more nearly every single day. The site is also very well organised, which makes it easy to find what you want. Or you can browse and end up falling in love with something unexpected. The quality of the pieces varies, as to be expected with vintage items, but they're always incredibly up-front about the condition of each item.

---
Ease of Use
The site navigation is very straightforward, and adding items to your cart is as easy as a couple of clicks. However, the ordering process has a step you might not be used to if you've only shopped online in North America, or only with large retailers. After you've placed and submitted your order, you have to wait until they get back to you with the invoice, at which point you can pay easily with PayPal or a credit card.

---
Customer Service
I cannot say enough good things about the customer service at Ichiroya. As I mentioned above, all the employees are incredibly helpful and friendly, always willing to go the extra mile to help out a potential customer. They are just genuinely lovely people.

---
Prices
This is a tough thing to quantify, as there are currently items under $10 and items over $1000 listed. When it comes to kimono, there are so many things to factor in when it comes to price. Age, rarity, condition, etc. Since most of these items are one-of-a-kind, it's not easy to comparison-shop. However, their prices are more than competitive when all of these things are factored into account. Whatever your budget is, you're certain to find something you'll love.

---
Shipping
They offer multiple shipping options, depending on your budget and timeframe. When ordering from Japan, EMS tends to be the most reliable option, but it's also the most expensive. SAL is cheaper, but slower and uninsured. Whatever rate you choose, though, they are always quick about getting the order out, it's always carefully packed, and there is always a lovely little extra in the package.

All in all, whether you're looking to add to an existing collection or just dipping your toes in, I cannot recommend Ichiroya highly enough!