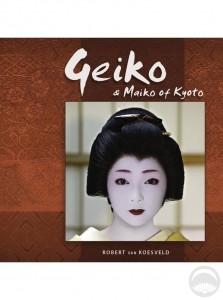 Geiko & Maiko of Kyoto
by Robert van Koesveld
Language: English
ISBN: 978-0-9944501-0-4
Buy Here
For this volume, van Koesveld was awarded the Photography Book of the Year (2015) by the Australian Institute of Professional Photographers, and it's easy to see why. While the text is certainly interesting and well-written, the photographs are the heart and soul of this book. They are beautiful, and there are many of them. The book is full of gorgeous, crisp full-colour plates of geiko, maiko, live performances, as well as garments and accessories, and the skilled people who make them. It's a fantastic glimpse into a world most of us will never get to see.
The book features interviews with maiko and geiko who live and work in Kyoto, as well as interviews and information about the artisans and craftspeople who support the community. It offers an unprecedented look into the Flower and Willow World, the mysterious and ethereal environment where these women live and work that most of us will never be able to experience. It is filled with information that anyone interested in modern geisha traditions and culture would love to have in their collection.
(The tinting and distortion in these sample pages is a result of my scanning process; the photos in the book are absolutely beautiful and these pictures do them no justice)
I would recommend this book for:
-People interested in the tradition and culture of geiko and maiko
-People looking for information about the artisans and tradespersons who support this culture
-Anyone who appreciates beautiful photography
I would not recommend this book for:
-People who have incorrect assumptions about geiko and no interest in learning
-People looking for instructions on how to dress maiko or geiko-style
I received this item as a backer perk for a project or product that was crowd-funded (Kickstarter, IndieGoGo, etc)