Recently, I shared a couple of cute movies with kimono eye candy, and I thought it would be fun to share a few anime as well.
As I've gotten older, I'm watching far less anime than I used to but every so often a little gem comes along, and sometimes these have some great kimono ensembles. Certainly, there are scenes in nearly every long-run anime that involve one or more characters wearing a yukata to a summer festival, or a kimono on a holiday, but the ones I am sharing here have regular appearances, different outfits, and lots to ogle!
---
Kuragehime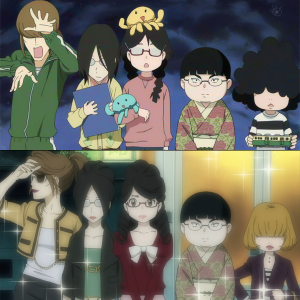 Kuragehime (Jellyfish Princess) is an adorable recent anime about a group of young female otaku living in a boarding house together. The primary story is about the protagonist, Tsukimi, coming into her own and standing up for herself while the girls in the house band together to protect it from the Big Bad Real Estate Developers.
For me, however, one of the main draws was the character of Chieko, whose obsession is with all things traditionally Japanese. In each episode, she wears a different kimono ensemble, and they're all really cute and inspiring. She also dresses Tsukimi up in kimono at one point, with lovely results. One of my favourite moments of the show is when the "stylish" Kurako gives all the girls makeovers, but changes virtually nothing on Chieko because she looks like "a celebrity who wears kimono because she's rich" once she's framed by all the other girls in their stylish new looks. How fab is that?!
Kuragehime on IMDB
Kuragehime on Wikipedia
---
Taishou Yakyuu Musume (Taisho Baseball Girls)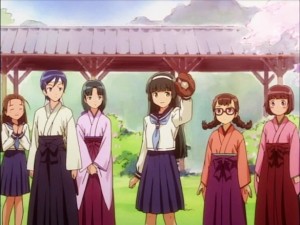 I've just started watching this, despite it being a few years old, and it's absolutely adorable. Set in the Taisho era, there's an interesting juxtaposition of traditional Japanese clothing and modern western-inspired wear. The main character, Koume, dreams of wearing a sailor-style fuku uniform, but her parents insist that the Meiji-style kimono and hakama are much more suitable for her. Several of her other classmates also wear the traditional outfits. The outfits don't seem to change from episode to episode, but they're still nice to look at.
Taishou Yakyuu Musume on IMDB
Taishou Yakyuu Musume on Wikipedia
---
Sayonara Zetsubo Sensei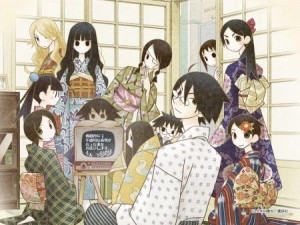 In the interest of full disclosure, I want to make it clear that I have not yet seen this anime. It's on my list of "things to watch when I have free time", but the main reason it's even on that list is due to the kimono. Not only does the main (male!) character always wear kimono and hakama, they vary from episode to episode and are seasonally and formally appropriate for the weather and events. For a kimono dork like myself, this sounds really fun and exciting.
Sayonara Zetsubo Sensei on IMDB
Sayonara Zetsubo Sensei on Wikipedia
---
Ikoku Meiro no Croisée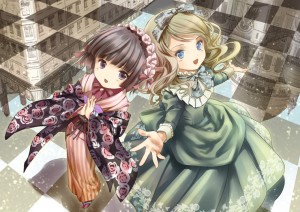 This is the beautiful story of a young Japanese girl named Yune who finds herself in Victorian-era Paris. It's mostly a slice of life show about Yune's adaptation and confusion, and there is no particular over-arching story or dramatic climax, which makes it absolutely lovely to just watch an episode or two and enjoy the combination of late Taisho and fluffy Victorian aesthetics, combined with lovely Art Nouveau designs and architecture.
Ikoku Meiro no Croisée on IMDB
Ikoku Meiro no Croisée on Wikipedia
---
These shows should all be available for purchase by this point.