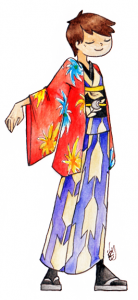 I spend a lot of time on an internet community called Gaia Online, and I've met many incredibly talented artists there. I mostly collect artwork of my little avatar on the site, but every so often I find an artist whose style and skill urge me to ask them to do something a little more exciting, and I commission them to draw me in kimono. I thought it might be fun to share some of them.
Today's is an incredibly cute and fun watercolour by Abbakus. I think her art style worked really well with the graphic vintage feel of the outfit that I wore to ToyCon October 2010! She was a total sweetheart to work with, very careful to work with me to make sure all the details were accurate. It's making me want to wear this ensemble again soon. XD
To see a larger version, you can click the image or click the link to view her DeviantArt gallery.