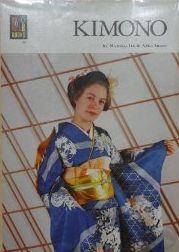 Kimono (Color Books Edition)
by Motoko Ito and Aiko Inoue
Language: English
ISBN-10: 4586540370
Amazon.com Listing
This is the first kimono-related book I ever purchased, way back when. I found it on eBay and thought it would be a worthwhile investment. It's the book that taught me what items I'd need, and how to tie otaiko musubi. It was probably the best kimono book investment I ever made, despite the fact that it's only about 4 by 6 inches and 124 pages long. A while back I realized I couldn't find my copy, so Naomi picked up a copy off Amazon and sent it to me, since the seller wouldn't ship to the wild norths of Canadia. I'm so glad to have it back!
The book is a wonderful little resource. It's separated into categories that explain types of kimono, types of obi, different weaving and dyeing methods, and dressing instructions. The information is concise and clear, without being patronizing. The obi-tying instructions are accompanied by great photographs that really help with the whole process.
Overall, the book is really a little gem. If you're very familiar with kimono it certainly won't give you any amazing heretofore unseen insights, but it's a great little book to slip into a pocket or sleeve when you're traveling or just need a quick reference. If you're not familiar yet, it's a wonderful introduction to the basics of kimono.
I would recommend this book for:
-People interested in learning the basics of kimono.
-People who want to learn about Japanese textiles and decoration methods.
-People looking for quick references for some simple obi musubi (bows).
I would not recommend this book for:
-People looking for coordination ideas.
-People looking for in-depth or advanced resource material.
This post contains affiliate link(s). If you choose to purchase, I receive a small rebate or commission which goes to the continued maintenance of this site.