Geta Makeover!
I purchased these geta a while back from my friend Amelie, because I'd been looking for a pair of slightly dressier geta I could wear with vintage or casual kimono. The straps were painfully tight and an akward shade of green velour that didn't really go well with anything I owned.
Naomi sent me a wonderful box full of random goodies, and in it was this pair of gorgeous black pinstripe hanao. They're wonderfully subtle and iki in my mind, and perfect for what I had in mind for the geta in the first place.
I'd lengthened the hanao on several of my pairs of zori before, so I figured I had enough experience to throw caution to the wind and go all Mad Scientist on the geta. There are a lot of images here, so I've made them smaller than usual. Click on them for larger sizes if you are curious 🙂
Phase 1: Lay the geta, bottoms-up, on a convenient flat clean surface.
Phase 2: Using a pair of small pliers (I used some sturdy jewelers pliers), pull the staple out from the flap under the toes and carefully undo the knotted cords.
Phase 3: Stripped geta bases with no hanao.
Phase 4: Insert the hanao back into the toe-hole, tie it around the metal pin, and carefully hammer the staple back into the rubber flap, making sure the cords are covered.
Phase 5: Thread the ends of the hanao into the back holes and tie the strings together in a tight knot and then tie the excess in repeated square knots around itself.
Repeat for the second geta, and voila, sexy and stylish new look.
While working on them, I noticed the black lacquer had chipped off one of the toes. This was simple to fix with a bottle of black nail polish.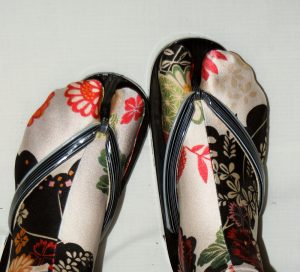 And here I am wearing them with some delightfully obnoxious tabi!
Eventually I would like to replace the rubber soles on the bottom, and will share my adventures with that when the time comes. The whole process only took me about half an hour, and I think it was absolutely worthwhile. I now have a pair of well-fitting and stylish black geta, and the knowledge that I can totally do this again if I ever find another pair that's not in fabulous shape. I hope seeing the procedure encourages you to try it as well if it's something you were considering but were feeling overwhelmed by!