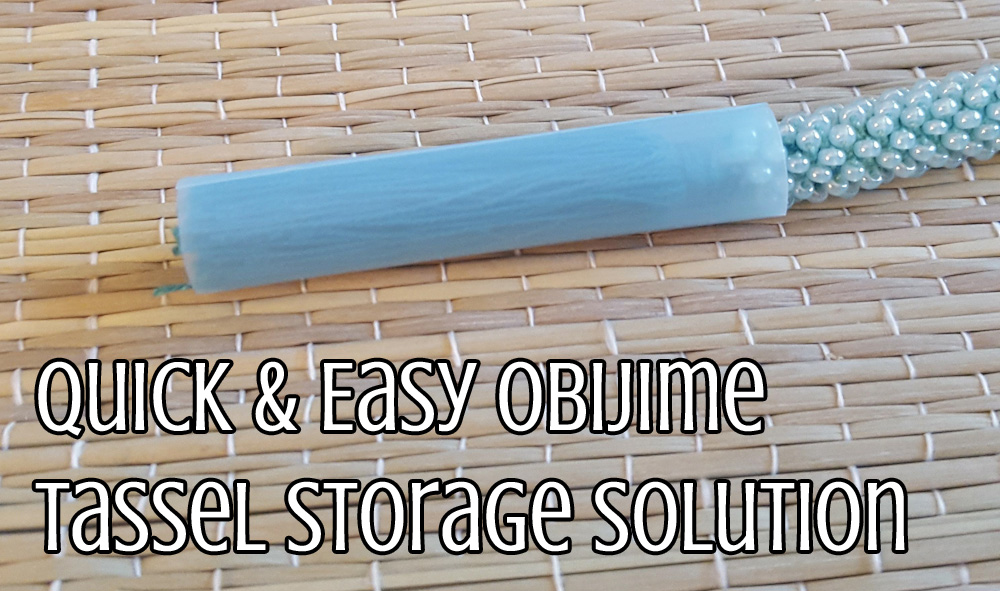 Finding a practical storage solution for obijime is one of the great conundrums of kimono collecting. They get tangled, the tassels get ratty and frayed, and most of the storage options I've come across involve wrapping the tassels in paper which gets tedious and wasteful if you use them frequently and have to redo the wrappings every time.
I wanted to find a quicker and more practical way to store them that would also be affordable and easily accessible. After a couple of experiments, I think I've found the perfect solution and wanted to share it with you all – bubble tea straws! You can also find them listed as milkshake or smoothie straws, you just want to make sure they're a wider width than typical drink straws. They're available on Amazon as well as at nearly any grocery store, they're very inexpensive, and they're much more durable than paper.
To begin with, I steamed. combed, and trimmed the tassels on my obijime. For a really great and thorough tutorial on cleaning, steaming, and maintaining obijime tassels, please check out Naomi's "Project Obijime" blog post. It's really thorough and clear, and a great place to start.
After all your tassels are tidied up, what you need to do is cut a piece of the straw slightly longer than your tassel and then slit it up one side. Insert the body of the obijime in through the slit and then slide it down to protect the tassel. Then just store however works for you – mine are simply folded in half and then in half again and put into divided boxes by formality and shape. The great thing about using straws like this instead of paper or something else is that you can pull it off and slide it back on as many times as you'd like! No need to take the time to re-wrap them, and no waste.
The only time this feels like a less-than-perfect solution is with very wide and flat obijime, which are more common in vintage collections. Just be careful to make sure that you've pulled the straw down completely onto the tassel so it's not causing the obijime itself to curl because they will stay that way and need steaming again to flatten out.
I hope you found this helpful! It's such a simple little thing, but personally I think it makes a huge difference when it comes to storage and tidiness!
 This post contains affiliate link(s). If you choose to purchase, I receive a small rebate or commission which goes to the continued maintenance of this site.